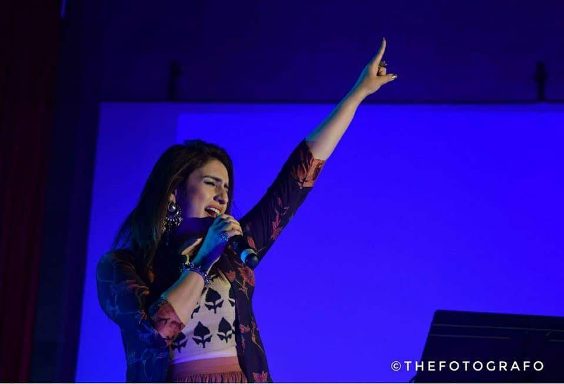 21st February, 2018
Akriti Kakar sings for a #Cause
On 21st January 2018 Abhyuday – a social body complex of IIT Bombay with the help and support of Ketto organization and singer Akriti Kakar held a fund raising event "Concert for a Cause" for "Swaradhar" a non-government organization supporting the cause of street singers.
Swaradhar an NGO aims at providing a dignified platform for all the talented artists performing on local areas like trains, foot over bridges, streets and many of these singers are physically challenged and are considered as social outcasts. Swaradhar wishes to provide these amazing singers a sturdy area where they can showcase their talent and perform and entertain people.
Hemlata Tiwari Founder and Head, Swaradhar said, "Dignity to every hard work is our belief and we make every attempt to provide a dignified life to the street artists of Mumbai." Tiwari highlighted this issue for the first time and initiated a study on the same. Swaradhar is the only organization in India working on this cohort of the population which is neglected by the government and the common people.
"Concert for a Cause" was a fundraising event for such melodious artists who are need of recognition for their beautiful voice. Vivek Bansod, Events manager of Abhuday said, "With the titular theme, 'Enabling Humanity with Human Rights', Abhyuday organized the 5th edition of Annual Social Festival in IIT-B on January 20th and 21st, 2018. Our team wanted to organize a concert which would be for a dedicated cause towards society. So we discussed this with the NGO and decided to have it in our social festival as Concert with a Cause for these unsung heroes. Through this concert we also wanted to dignify the human rights of these unsung heroes which get lost in our mundane lives."
The concert was held at the IIT Bombay complex in Powai. The show stoppers were Akriti Kakar who is a very famous Bollywood singer and who performed songs in this concert. The very famous Qawwali singer Ustad Nusrat Fateh Ali Khan songs were performed by Jitu ji, Fateh Ji, and S. K, the talented artists of Swaradhar.
Vivek stated, "Getting the support of Akriti Kakar was a major boost for this concert and it also encourage the audience to come forward and support these people."
The funds collected from this event will go in the betterment and improving the present financial status of Swaradhar artists. With these funds, they can impact more such lives and give the platform to many such unsung heroes.
Kunal Kapoor Bollywood actor and co-founder of Ketto said, "We at Ketto feel extremely proud to be a part of this initiative. We should come out of our shell and help others specially the below poverty line one's in achieving their dreams. In this way we are uplifting our society and its principles".
Our society needs to have an empathetic attitude towards every human being that is the basic duty as citizens we need to follow as Ralph Waldo Emerson rightly quoted, "The purpose of life is not to be happy. It is to be useful, to be honorable, to be compassionate, and to have it make some difference that you have lived and lived well."
By Mahima.R.Jhavar