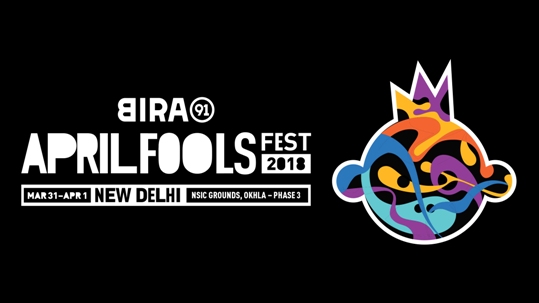 09th March, 2018
Bira 91 presents April Fools' Fest
Come 1st April and millions of people around the globe will have plotted and planned a prank or two for some unsuspecting April Fools. Despite a host of historical theories, the origins of this particular tradition remain somewhat blurry. However, what you'll read ahead is no prank, it's a guarantee of the most fun you'll have at April Fools' Fest on 31st March and1st April at NSIC Grounds, New Delhi.
Bira 91's personality is about turning things upside down and looking at them differently. Its essence exists in a moment of playful discovery, in recreation through reinvention; it is the creativity inherent in non-conformity, in self-expression without pretense.
It's all 'play' and no 'pranks' as we redefine the jokes associated with April Fools' Day. When you are playful you unleash your inner self – you set free that fun, friendly, unconventional and slightly odd-looking creature that is inside of you.
True to this spirit, we're changing things up for April Fools' Day with a two-day festival that brings together fun, festivities and a host of immersive performing arts. Highly visual and extremely experiential, with an urban contemporary vibe, the festival celebrates the spirit of Bira 91.
91 represents the India code and 1st April is the 91st day of the year. It's no surprise then that we're gearing up to make the weekend unforgettable. Our April Fools' Fest brings together a live hip-hop music stage, a comedy arena, street art, theatre and graffiti, curated food stalls, and for the first time ever, festival goers can purchase exclusive Bira 91 merchandise at the Merch Shop.
It's a festival you just can't afford to miss. There's only fun and play.
Tickets are available on https://insider.in/
Event details:
Date: 31ST March and 1st April
Venue: NSIC Grounds, Delhi
Time: 12 Noon – 10 pm