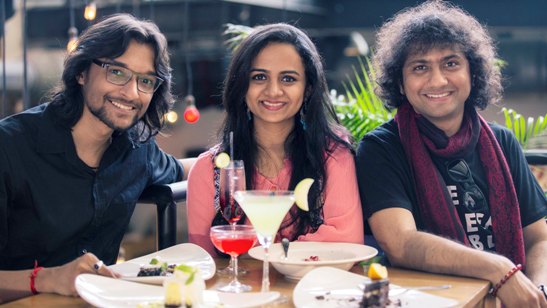 24th May, 2018
First Edition Arts presents 'Come Together'
First Edition Arts (FEA), a Mumbai based performing arts company presents Come Together, a new musical series that offers a young and contemporary experience of Indian classical music presented as solos and duets in short sets in a nightclub environment.
Teaming up with Cafe Zoe, the popular and stylish cafe, brasserie and bar in Lower Parel, the Come Together series (named after a popular Beatles track by John Lennon from the album Abbey Road) features some of the finest contemporary
​Indian classical musicians on the Sarod, Sitar, Violin, Flute, and the Tabla. It is a series of 4 concerts, each quarter with a different trio everytime. While the ambiance leans towards youth cultures of the day (with musicians dressed in jeans and T-shirts), the music will be exciting, rigorous, rich in improvisation and in keeping with the artistry of Indian classical music. The aim is to build up wider interest in classical music without taking the typical "fusion" route.
Devina Dutt, Director, First Edition Arts says, "We believe Indian classical music is stunningly beautiful, creative and exciting. It has acquired an unfair reputation for being boring or intimidating especially in the minds of young people. Through the Come Together series (with 4 concerts through the year) we are presenting an experience of Indian classical music which is contemporary, cool and speaks to new listeners and young urban listeners who have never had a chance to discover just what this music is."
"We are not taking the fusion route. We believe that gimmick-free raga music, performed in an all-new setting and free of some of the rigid protocols of the typical classical music concert, will draw listeners to the music. Just five minutes of listening to this music is enough to hook you for life. The series will feature some wonderful young musicians who have a modern worldview and can communicate their art intelligently to new listeners without dumbing it down. We believe there is a great audience for this out there. And Cafe Zoe, our venue partners in the series, are a great space with some excellent F&B and energy. A perfectplace to start off some great conversations around classical music."
At the first concert in the Come Together series, the Musicians are: Abhishek Borkar (Sarod), Nandini Shankar (Violin), Ojas Adhiya (Tabla). A new trio of musicians will present classical instrumental concerts as solo and duet set every quarter.
​The musicians will interact freely with listeners, who will be encouraged to take a closer look at the gorgeous instruments, ask questions and have a bite with the musicians.
So here is the real thing; exquisite music being made on stage right in front of you. And the chance to meet and greet the musicians at Café Zoe.
CONCERT DETAILS:
Day/Date: Sunday, 10th June
Time: 6:30 PM
Venue: Cafe Zoe,
​ Mathuradas Mills Compound, NM Joshi Marg, Lower Parel, Mumbai.
Entry: Rs. 500/-