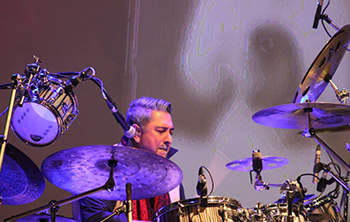 26th June, 2018
Transcendence – A Confluence of the East and the West.
St. Andrews auditorium in Bandra resonated with a deep resounding drumset on one side and sharp notes emanating from the Khanjira on the other. Ranjit Barot and Bangalore's Amrit N. maestros of drum and Khanjira, were the ones at stage playing in memory of drum maestro Buddy Rich and Khanjira Guru Govindrao Harishankar respectively at the tribute show on Friday evening, 15th June 2018.
Ranjit Barot, drummer, film score composer, music director, music arranger and singer started off with Richs' arrangement of In a Mellow tone with his eccentric band ensemble. As soon as the stage warmed up to the beat Ranjit continued with Love for Sale and Caravan. The performance was laced with mind- boggling drum solos which made it difficult for the audience to sit still in their seats. Young lead guitarist Rhythm Shaw was pulling off some excruciatingly difficult solos matching the speed to Buddy Rich style drum solos played by Barot effortlessly. To add on Christos Yerolatsitis calmly seated was stripping notes from his piano and keyboard not allowing even a millisecond to sound shrill, while Avishek Dey on the bass held his fort nonchalantly.
Ranjit Barot humbly expressed "I will only try to imitate because they were one of a kind." On completing his set Barot left on a light note saying "It's not east meets the west but east 'eats' west!" before inviting Bangalore Amrit N for the next segment.
Amrit Khanjira entered the stage when heartbeats were palpitating with the drums still sinking inside. He was dressed in traditional kerala set mundu, milk white with a golden border neatly draped. He settled tranquilly along with Rajkamal Acharya on flute. Amrit began his rendition with a composition from Raag Dharmavati. Beat variations were designed , to listen to the entwined with Acharya's melodies pushing the listeners into a dilemma, inviting listeners to pay attention to the flute or the Khanjira. Fingers on Khanjira seemed to move at an unbelievable pace. Amrit also presented a poetry composed in Sanskrit by himself paying homage to his Guru. He said, "It is the greatest blessing of my life to pay G. Harishankarji a tribute. Harihsankarji moulded the contemporary style of playing the Khanjira and the responsibility rests on my generation to take the art forward"
Drums and Khanjira entered into a dialogue on request by audience. And the unbelievable happened. Drums were being backed by Khanjira, the flute blended as naturally as the river meets the ocean, bass made the ambience and the keyboard and guitar spiced it up. The party played Dark Matter from Ranjit Barot's album 'Bada Boom'. A special interlude, the gem in the crown was the dialogue between Khanjira and Drums. The drum equipped with bass, snare, crash and other paraphernalia, could in no regard overpower the little Khanjira, a frame drum. The real power of the maestros was revealed with the recital of taal followed by a quick succession of the same on the two percussion sets.
Pradeep Joseph from Raga to Rock said "Combination of a great drummer and a great Kanjira player was an ecstasy." Rajshekhar, Organizer, added "The idea of getting Kanjiri and Drums on one stage came up during a casual conversation with Amritji. This was a new experiment and we hope to have such concerts with a tribute to different legends among various genres every year."
The concert was attended by venerable musicians like Louiz Banks, Fazal Qureshi Asst. Director of AIR Shailesh Shrivastav among others.
The concert was sponsored by Raga to Rock, New India Assurance, Bharat Petroleum, Hotel Atlantica and equipment partner Gigue.


-- By Chinmaya Dighe