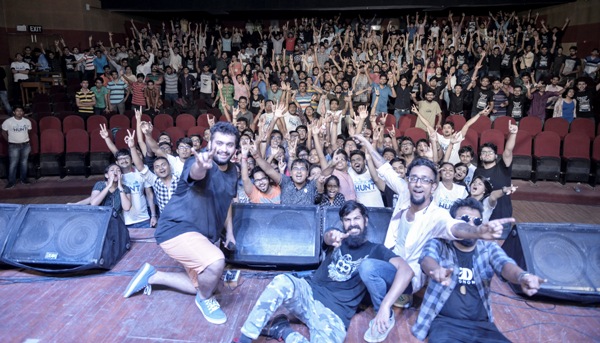 09th August, 2018
A national music festival to select India's Best College Band coming soon.
Parx kicked off the second edition of ParxHunt – India's Best College Bands, setting the stage for yet another Grand Finale with the country's top 4 college bands from across four zones (East, West, North and South) battling it outfor glory. With last year's competition having experienced overwhelming participation from 150 bands from over 60 colleges across India, Parx Hunt 2018 promises to double the count, this year.
At Parx Hunt for India's Best College Bands, college bands will be evaluated on criteria's like the quality of music, style, entertainment value and stage presence to name a few. They will bejudged by nationally recognized names on the music scene, during the regional rounds as well as en route the Grand Finale. Raising the bar a notch higher, this year's edition will give the finalists a once in a life time opportunity to be mentored by these renowned musicians before the run up to theFinale, for aunique musical extravaganza.
Commenting on the initiative, Luke Kenny, the lead host at Parx Hunt 2018, said,"I have been associated with Parx Hunt since the past two years. In the days to come, I am looking forward to a fierce competition between college bands across the country. This year, the competition is tougher and has newer elements like mentoring sessions. This will see industry stalwarts mentor shortlisted college bands, before the run up to the finals. Here's to kick-starting a new season of this exciting musical journey."
After the first round, these college bands will battle it out in the regional finals slated to be hosted in Mumbai, Delhi NCR, Kolkata and Hyderabad, in order to emerge as the Regional round winner/finalist. Four regional winners will then face their regional competitors in the Grand Finale at Hard Rock Café in Mumbai on 4th October 2018.
Pragati Srivastava, Brand Head, Parx, mentioned,"Parx Hunt as a concept is gaining traction with every passing year and the college youth is now increasingly seen resonating with this musical extravaganza. Now, in Season 2, the reach of Parx Hunt- India's Best College BandsTM is getting 2x. From 80 colleges last year, we are reaching out to 120 plus colleges this year, through the length and breadth of the country. Touching base with around 5 lakh college students, we look forward to a hyper-competitive music fest, as we invite entries from college bands to participate in Parx Hunt 2018. "
At Parx Hunt 2017, the finalists in the running were…
| | | |
| --- | --- | --- |
| City | Band Name | Genre |
| Mumbai | Across Seconds | Experimental/progressive rock |
| Delhi | Lost Icons | Punk/alternative rock |
| Delhi (Wild card entry) | Knight Shades | Hard Rock n' Roll |
| Kolkata | Yajnyavalkya | Experimental/alternative/Nu Metal |
| Hyderabad | Metallers Revival | Metal |
Mumbai-based Across Seconds from Thakur College bagged the title last year. Kolkata-based alternative rap/rock group 'Underground Authority' took to the stage as theheadliner band for the Grand Finale.
So, gear up to experience one of the most power-packed music fests of the year. College bands can register their entries at www.parxhunt.com