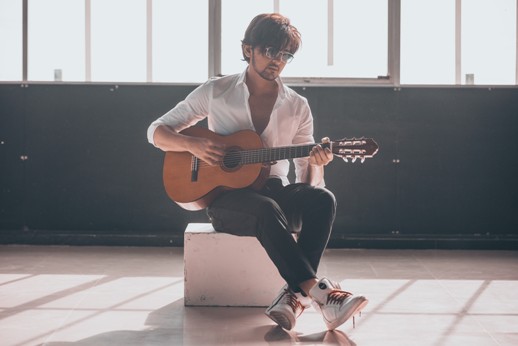 10th September, 2018
After Kamariya & Chogada, Darshan Raval releases his new #HappyLove pop single 'Do Din'.
Known to give Bollywood the biggest hits this year with Chogada, Kamariya and Sonedo, heart throb Darshan Raval releases his new pop single Do Din. With a dash of romance and a lot of dance, the song video is an easy yet absorbing video with Darshan luring viewers with his boyish charm.
Shot over a night at the iconic Liberty theatre in Mumbai, the video is a fun breezy love story between Darshan and the beautiful Akanksha Sharma that will bring back the feeling of the first love in your life.
Known to teach the who's who of Bollywood dancing, Shaimak Davar Dance Company played choreographer teaching Darshan Raval some amazing dance moves for his single Do Din. Darshan has been practicing the dance moves for over a month with regular practice sessions with the team.
Says Darshan Raval, "Dancing is not as easy as it looks, there is a lot that goes behind it . I had a blast doing this session with the best from the industry. I hope my fans like it."
Shiamak Davar, "We took on the project as the song is fun and has a great vibe to it. We really enjoyed working with Darshan too, he is a quick learner."
Adds on Divya Palat, Music Video Director, "When we heard the song , we knew we needed some major cinematic experience and who better than Shiamak's team. We are happy this association came about. Darshan was a breeze to work with as well as the team at Sony Music. "
The audio teaser of his song was released sometime back, with the audio of the song out on September 9th while the video is scheduled for September 10th
An exclusive Indie Music & Sony Music artist, Darshan Raval is touted to be the next big thing in the music industry with his songs topping charts, globally.
Written by Kunaal Vermaa and composed by Darshan Raval , Denny Thakrar,"I cant believe how everyone around wants me to work on a happy love song. I always thought I am the master of sad love, so now with this feedback, I am working and trying to change the way I think. So get ready for a love song that will add an extra beat to your heart".