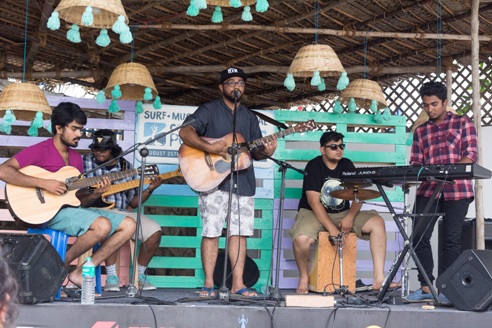 10th September, 2018
Chennai-based band Amogh&The Homies win Red Bull Spotlight
Following a month-long voting period, Chennai-based rock/hip-hop/pop band Amogh&The Homies have been selected winners of Red Bull Spotlight. The five-piece band will now have the opportunity to record an album at a professional studio, along with a number of other benefits, including a press kit – complete with a photo shoot and album art for their newly recorded album.
"We are ecstatic to have won Red Bull Spotlight this year. We're happy that we made it this far, and a big thank you to all our supporters, you all helped us to victory. Shout out to all the other artists from across the country who competed with us – you all kept us on our toes, keep hustling," said the band.
Going up against eight other bands from across the country, Amogh & The Homies was deemed to have a sound that is both fresh and confident by the judges, music journalists Amit Gurbaxani and Anurag Tagat, head of programming for OML/NH7 Weekender Debayan Deb, artist manager at Mixtape Anu Anna George and founder-partner of subculture think-tank 4/4 Entertainment and the non-profit Control ALT Delete Nikhil Udupa.
"Amogh & the Homies have this coolness amongst them that belies their newbie-ness. There's confidence in their flow and plenty of smoothness in their songwriting. Everything sounded more or less in its right place," says Anurag Tagat.
Amit Gurbaxani, meanwhile, said, "Chennai's Amogh& the Homies fuse rock, rap, reggae and pop, genres that have been combined before but manage to do it in a way that sounds fun and not forced; there's a freshness and enthusiasm that comes through on 'Treadmill', which I found myself wanting to play on repeat. Plus, I have a soft spot for 1980s synth stabs".