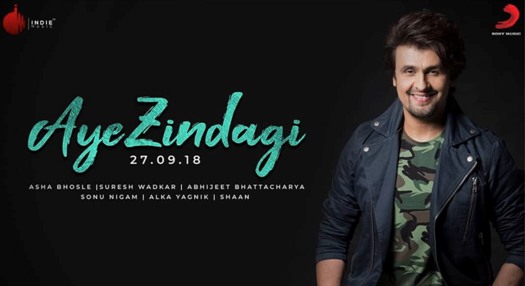 03rd October, 2018
One Song, Six orginal versions - Aye Zindagi
We have heard of casting coups, but a coup of this kind we think is one of the first of its kind in the world. Six stalwart singers and one song, but the catch is even more interesting as each singer has sung their own complete original version of the same song and are not an amalgamation in a single.
Thus the latest single to be released on Indie Music Label is by non other than the Sonu Niigam, an unparalleled name in the music industry and the torch bearer of the Pop scene in Indian Music, along with other stalwarts of the music industry – namely Asha Bhosle, Shaan, Abhijeet Bhattacharya, Suresh Wadkar and Alka Yagnik, who also, over the years are synonymous with the Independent music industry in India. Aye Zindagi is revolutionary in more than one ways and is the brain child of ITW Playworkx Music.
"The core ideology of Indie music label is to promote Independent Music. Quality over Quantity and originality is the hook for the new generation. Audiences around the world readily welcome new content over remixed/recreated music," says Naushad Khan, Managing Director, Indie Music label.
Also the partnership with Sony Music India, for digital distribution has given Indie Music Label a large platform and acknowledgement among top singers of Bollywood today, who are releasing their songs with Indie Music Label.
"Aye Zindagi is perhaps one of the most beautiful songs I have heard in my entire career with a refreshing and contemporary approach to it, which the modern day listener will relate to." adds Sonu Niigam.
All versions of Aye Zindagi was released on 27th September 2018 on Indie Music Label YouTube Channel.