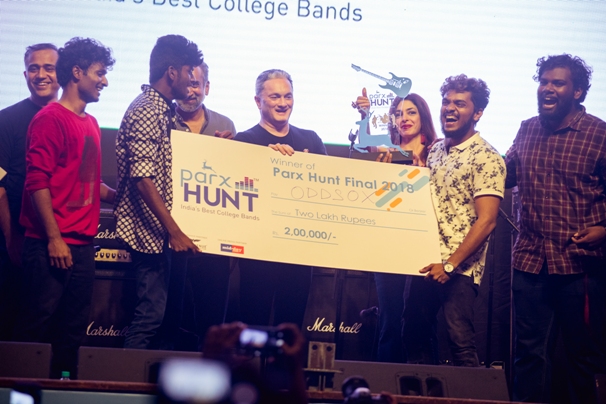 09th October, 2018
Chennai band Oddsox emerges as India's Best College Band at Parx Hunt 2018
On October 4th, the long-awaited Parx Hunt 2018 Grand Finale kick-started with overwhelming enthusiasm at the Hard Rock Café, Mumbai. Wooing the jury and the music enthusiasts at the event, Oddsox from Chennai emerged as the National winner of Parx Hunt 2018.
As HRC Worli echoed with loud cheers of the crowd, the first performers Hidden Identity set the event rolling with their scintillating renditions of alternative rock music followed by Common Thread, Alchemy, and Oddsox respectively. The evening reached its crescendo as the four bands battled it out to claim the coveted title for the year.
Gaurav Mahajan, President, Group Apparel, Raymond, said, "The idea behind this initiative was born from the fact that Parx as a brand connects with the youth. Moreover, creating a platform for independent musicians had been long due, and Parx Hunt has in someway managed to fill the void. We wish to take this initiative to better heights in the years to come."
As Underground Authority (UA) vocalist E.P.R Iyer came on the stage door the headlining act, a wave of magnetic energy ran through the crowd bringing the evening alive and the audiencewitnessed as to what sounds like the most amazing rap rock band in India can offer.
Vivifying the spirit of Parx Hunt, leading artists like Anand Bhaskar, Rhythm Shaw, Abhishek Gurung, Sambit Chatterjee, Sidd Cuotto and Nikhita Gandhi collaborated with headlining band Underground Authority taking the energy high up with every note. It was a first for a platform of this scale to present multiple artists sharing the stage before a live audience. This act proved their support towards Parx's unique initiative in encouraging independent artists and giving them a larger than life opportunity to make it big.
Pragati Srivastava, Brand Head, Parx, said, "Parx is a brand that resonates with the youth of the country today. Through Parx Hunt, we are trying to feel the pulse of this generation and nothing could be better than music to do so. We provide the right stage for upcoming college bands to showcase their talent and learn from the best in the music industry. The winning band takes home a prize money of three lakhs, which we hope, will fuel their dreams. With this initiative, the Parx Hunt team hopes to touch more lives with every passing year and enrich the musical journeys of everyone who ever dares to dream."
Parx Hunt 2018 was a resounding success and the brand hopes for a bigger turnout next year.