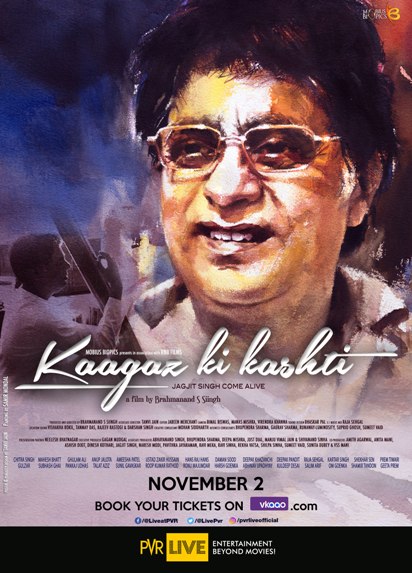 28th October, 2018
Tribute to ghazal superstar Jagjit Singh, brings magic and tears
The life journey of Jagjit Singh, 'Kaagaz Ki Kashti'a film directed by Brahmanand Siingh will hit the cinemas exclusively under PVR LIVE at PVR cinemas on 2nd November 2018.
The couplet from a ghazal by acclaimed poet Nida Fazli and rendered to perfection by Jagjit Singh captures the eternal bond between his ageless music and devout music aficionados the world over.
Jagjit Singh's songs struck a deep chord in music lovers, be it ghazals, filmy, devotional or folk. His ageless music and velvety voice lives on in people's hearts. Despite the contemporary music scene with dominant filmy, Western pop or Punjabi pop music, the sublime musical compositions, especially ghazals, continue to be the first love of the young generation.
'Kaagaz Ki Kashti' is an evocative film of not just Jagjit Singh's life, but also of the monumental legacy he has left behind. Through in-depth conversations with friends, family, colleagues and through archival footage, the film becomes an intimate portrait of the iconic Ghazal maestro, Jagjit Singh.
The life journey of Jagjit Singh who broke through the norms and revolutionised the Ghazal scenario. Journeying through his struggle, stardom, love, laughter and loss … Exploring not just the musician, but the man behind it all.
Brahmanand S Siingh who has directed the film, is an national award-winning filmmaker and writer. Best known for his films like Kaagaz Ki Kashti (The Paperboat … 127 mins), a biopic on legendary ghazal maestro Jagjit Singh and his National-Award winning (among many other awards and accolades) feature-length documentary on RD Burman, Pancham Unmixed: MujheChalteJaana Hai, (113 mins), which continues to enjoy an amazing, sweeping cult, critical and popular acclaim across viewing platforms. His films have drawn great response, and are highly recognised for their sensitivity, authenticity and engaging quality.
Catch the journey of ghazal legend Jagjit Singh in his biography 'Kaagaz Ki Kashti' on 2nd November, 2018 at PVR Cinemas.