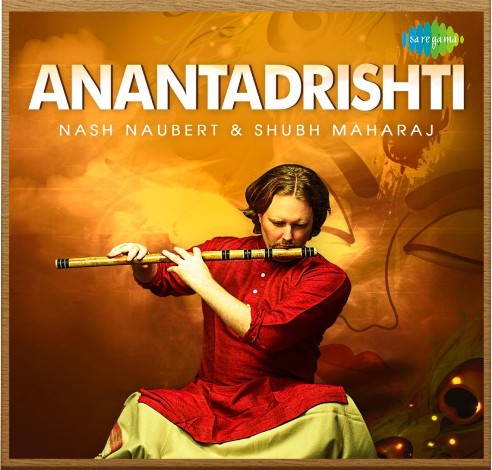 31st October, 2018
Flautist Nash Naubert releases new album and also a new company
Nash Naubert, an American citizen who has been living in India for the last 20 years, is a self-taught classical musician initially guided by Pandit Hariprasad Chaurasia. Nash hsa released his new Album Launch 'Anantadhrishti'. Nash will launch his company "Music of Now" which is focused on promoting Indian Classical Music and will debut its first concert at Carnegie Hall on 5th July 2019.
At the launch of the new album present were Honorary Guest - Shubhada Varadkar (renowned Odissi Dancer), Kaushal Inamdar - (Renowned Singer and Music Composer), Sameer Kulkarni (India's Top Interior Designer). The album launch was held at the Press Club in Mumbai in early October.
Nash Naubert is a masterful performing artist whose devotions and lifelong pursuits to Indian Classical music began under the tutelage of India's legendary maestro and Padma Vibhushan recipient, Pt. Hariprasad Chaurasia. This eminent distinction of being taught by one of India's greatest maestros is Nash's source of inspiration and determination as he transforms breath into the soothing and introspective music that flows through the Bansuri.
Nash has collaborated with respected and well known artists like Pt. Yogesh Samsi, Pt.Mukesh Jadhav, Pt. Ramdas Palsule, Sabir Khan, Satyajit Talwalkar, Sridar Parthasarathy, Aditya Kalyanpur, Kalinath Mishra, Abhijit Pohankar, Prafulla Athalye and many others. Nash is performing in some of India's top festivals alongside great artists like Rahul Sharma, Parveen Begum Sultana, Pt. Anindo Chatterjee, Pt. Vishwa Mohan Bhatt, Ustad. Amjad Ali Khan, and chairman of the Sangeet Natak Academy Pt. Shekar Sen and many others. Nash has also featured on Insync, Doordarshan Bharti, and MTV music channels.