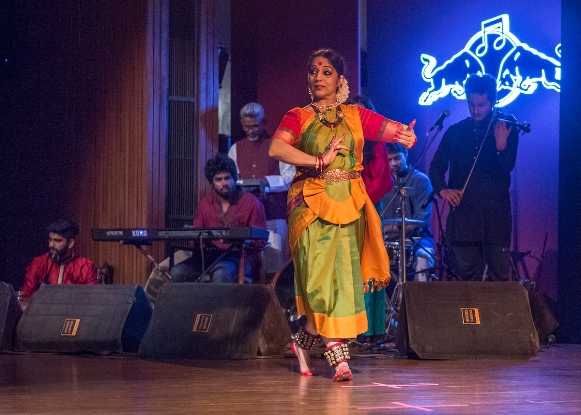 05th November, 2018
Red Bull Music presents Antariksha Sanchar – India's first fantasy Bharatanatyam dance opera in Mumbai
Following a preview show in Delhi last week, 'Antariksha Sanchar' will be revealed to the public in November in Mumbai, and December in Delhi. The opera, presented by Red Bull Music, is scored by the Antariksha Sanchar Ensemble – a collective of Carnatic and electronic artists accompanied by visual performers and video game artists who are redefining the landscape of modern Indian digital expressions.
The Antariksha Sanchar Ensemble is fronted by Hyderabad-based musician Murthovic and visual artist Avinash Kumar, aka Thiruda, the director of the soon-to-be-launched video game The dance and choreography is crafted by Bharatanatyam exponent Jayalakshmi Eshwar
Originally starting out as a Bharatanatyam production of the same name in 2010 by Jayalakshmi Eshwar, Antariksha Sanchar was expanded into a dance production with visuals, which became an inspiration for the video game – produced by Quicksand Studio – scheduled for release in 2019. The Carnatic-electronic version of the dance opera will premiere later this year, in collaboration with Red Bull Music.
"Antariksha Sanchar is an experiment in creating Indian cultural experiences for modern audiences through 'transmedia storytelling' – which is the technique of telling a story across multiple platforms and formats using current digital technologies," says Avinash Kumar. "This will be the first instance of such a cultural experience with this composition being attempted in India, and represents the large opportunity that emerging Indian creative talent have to tap into the vast and rich cultures of India to create the next generation of global digital entertainment. The confluence of experimental electronic artists with the experience of stalwart cultural practitioners such as Jayalakshmi Eshwar results in a new paradigm of entertainment and aesthetics that signifies India's strengths on the global music and arts scene."
The narrative of this cultural adventure takes the audience on a multisensory, gripping journey to outer space, with the protagonist Ramanujan using the power of his dreams to navigate the challenges presented to him. The show narrative expands on mythological references to flight in Indian scriptures and popular culture – from stories of Hanuman and the Pushpaka Vimana to the Vaimanika Shastra, an early 20th century Sanskrit text on aerospace technology. Philosophical conversations, a unique Indian fantasy steampunk aesthetic, and a trans media ecosystem render the game as engaging, educative and a surprising peek into Indian culture interpreted by an emerging generation of Indian media artists. The dance opera is set to a unique Carnatic-electronic take on classic ragas with an ensemble of classical musicians, which also features modern technologies including drum machines and synthesizers.
Show details
Mumbai
Venue: Royal Opera House
Time: Doors open at 7.30pm
Delhi
Venue: Kamani Auditorium
Time: Doors open at 7.30pm