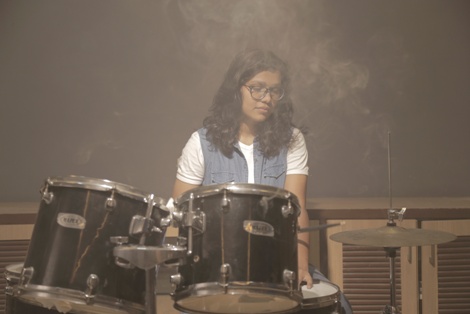 27th November, 2018
Women of Rhythm returns for its third season
For Sukkanya Ramgopal, the first Woman to play the Ghatam (Earthen Pot) Music came naturally. Born in a Carnatic musical family, the senior student of Vidhvan T Harihar Sharma and Ghatam living Legend Vidhvan Vikku Vinayakram was denied the opportunity to play the Mridangam or the Ghatam because her fingers would not be able to bear the force required.
45 years later, and after having performed thousands of Ghatam Solo concerts all over the world, Ramgopal is now a leading artiste in the Percussion Industry in India. She trains young Carnatic Music students and is a force to recon with in the promotion of the Ghatam
As her lone female student Sumana Chandrashekhar puts it, Sukanya is 'doubly marginalised' in the Carnatic music space — the ghatam is classified as an upapakkavadya (an accompanying instrument that is secondary to mridangam) and she is a woman playing it. Visually too, a woman playing ghatam (literally a pot) on stage challenges 'all notions of the slender female body' and defies 'all conventional descriptions of a woman's delicate fingers.'
Sukkanya and Sumana will be headlining the 3rd edition of Women of Rhythm which is slated for 30th November 2018 at the St. Andrews Auditorium in Bandra, Mumbai.
Thirteen young and talented percussionists will play at the third Edition of Women of Rhythm in Mumbai this month end. Curated by Mumbai based artiste and event management company Event Shevent, this edition proves to be powerful and extremely unique.
Neesha Mokal works as an Auditor with an Automobile Manufacturer. She spends her evenings playing her percussions and on her weekly off on Sundays, she spends the entire day practicing and honing her art. Neesha is a multi percussionist. Her main instrument was the tabla which she learnt for 9 years before finding her love in the Dholki (a traditional Maharashtrian Folk Instruement). Going ahead in her percussive growth she found solace in Latin Rhythm and she took to the Congas and Bongo under the tutelage of Hindi film Music Percussionist Shyam Edwankar. Neesha will play multi percussions at Women of Rhythm jamming with Tabla Artiste Mukta Raste who herself is a multi talented musician and who was instrumental in teaching the Tabla to Sonam Kapoor for the Film Padman.
Established in 2016, Women of Rhythm, has, in the two previous editions featured thirteen of the best percussionists in the country. Dandamudi Sumathi Rammohan Rao ( India's first Woman Mridangam Artiste) Anuradha Pal, India's most famous Tabla Exponant, Rimpa Siva ( Princess of Tabla) Chitrangana Reshwal ( Fifth generation and First Woman to play Pakhavaj) were featured in Season 1 while 16 year old Ananya Patil (Drums) Raipurs Reshma Pandit ( Tabla) and Delhi's pride MahimaUpadhyay (Pakhavaj) were amongh those featured in Season Two.
Speaking about her collaboration with young Chenda playing sister Sobhita and Rahitha Krishnadas, Mridangam artiste from Kerala Charu Hariharan says, "I was born to Music as my mother and father are both Musicians, however the problem was never with my parents as much as it was with other reletives who kept advising against a girl playing the Mridangam. But the music in my blood and the tutelage from my parents has made me an allround artiste."For the first time ever, A Woman Mridangam artiste and four women Chenda players will collaborate at Women of Rhythm in Mumbai. Another unique offering by the concert series.
The organizers of Women of Rhythm aim at organizing four concerts as a part of the concert series. Vibhor Hasija, Director of Yourseventfully, one of the associated partner of Women of Rhythm maintains that " the disparity in the number of male and female musicians in the Hindi Film Music Business is very concerning. As a musician himself he is an audience to this disparity almost every day. Women of Rhythm is the first step to bridge that gap and make Women musicians visible to Producers, Music Directors, Event manager and Promoters of Music
An engineer by education, a keyboardist by hobby and a stellar drummer who has broken the world record set by a Mexican girl by drumming for a non stop 31 hours, Shrishty Patidar's story is as inspiring as it gets. The notion of "girls cant do a particular thing" gets to her each time and after breaking the world record she proved her point. Nothing is impossible, Definitely not for a Girl. Shrishty will be joining 16 year old Metal Drummer Ananya Patil and stellar drumming artiste Siddhi Shah in an interesting Trio which will display the Beats of World Drumming.
To miss it might just be a huge mistake.
Event Details:
Women of Rhythm
Datre: 30th November 7 pm
Venue: St. Andrews Auditorium Bandra, Mumbai
Tickets on Bookmyshow.com and Insider.com Student tickets @Rs. 99/- on producing ID card.