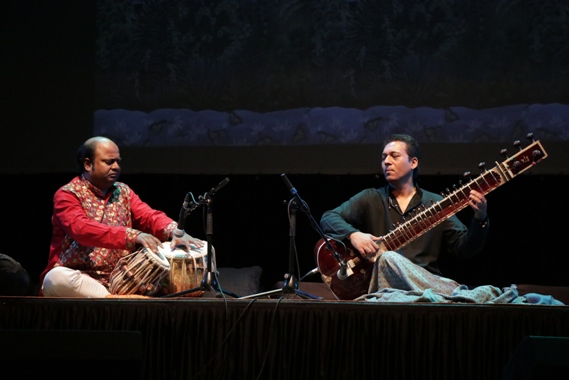 30th November, 2018
"Vilayat Khan was India's first original rockstar", Namita Devidayal
In India's first true experiment with multi-format publishing, Westland Publications Pvt. Ltd launched 'The Sixth String' of Vilayat Khan, an imaginative and deeply researched biography of the legendary sitarist Ustad Vilayat Khan, at Mumbai's Royal Opera House on Wednesday 28th November 2018.
Written by Namita Devidayal, author of the best-selling and critically acclaimed The Music Room, the book imagines a man who was as much a traditionalist as he was a relentless innovator, indeed an inventor.
Commenting on the book, Namita Devidayal said, "Vilayat Khan was a purist. He really chose to work with raag and the integrity of the raag. He was kind of India's most original and first rock star and he really took everything to an operatic level. Nothing could be ordinary; it always had to be highly accentuated and extraordinary."
The book will be available as a physical copy and as an E-book, both published by Westland under their literary imprint, Context. Additionally, it will also be available as an audiobook, narrated by Namita Devidayal and published by Audible India. Amplifying the reading experience is 'The Sixth String' playlist selected by the author and curated by Amazon—which is now available on Amazon Music.
A first for India, The Amazon Music playlist is a soundtrack to the book, enabling a musical experience to the reading. As you read about the recording of A Night at the Taj, for instance, you could listen to Ustads Vilayat and Imrat Khan playing raga Chandni Kedar, the sitar and surbahar singing of the love of Shah Jahan and Mumtaz Mahal.
'The Sixth String' of Vilayat Khan will be available for download under Amazon's newly launched Audible membership. Subscription starts at Rs 199 per month and comes with a 30-day free trial. Launch offers for select users include a 90-day free trial and a credit towards three free audiobooks.
Amazon is also providing Indian subscribers one credit a month, which can be used to buy any audiobook that is part of the Audible India catalogue, irrespective of its price. Audible subscribers can hold on to the audiobooks in their library even after cancelling their subscription, exchange audiobook titles and roll over up to six unused credits to the next months.
The book is now available at bookstores across India and at Amazon.in