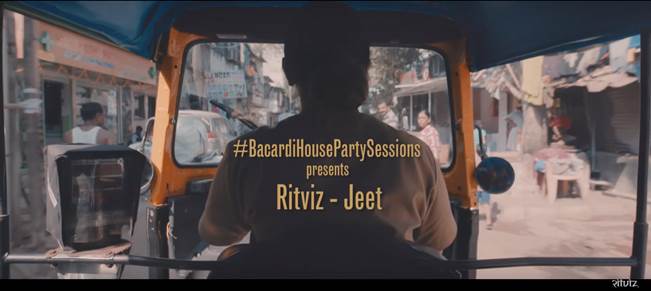 04th December, 2018
Ritviz speaks to the free spirit in us with his latest track 'Jeet'
The 'Wonder Boy' of Indian EDM, Ritviz, has just released his latest music video with Bacardi House Party Sessions. The talented artist, who was discovered by Bacardi last year, got millions grooving to Udd Gaye, one of the most loved tracks of 2017. His new song Jeet, the first release from his latest album, promises to have fans moving to its catchy tune and liberating lyrics. The track that released in November is already on the top 100 list on Apple Music.
The Pune-based DJ, singer and Hindustani dance music producer highlights the magic of doing what your heart desires through Jeet's whimsical music video that captures "break-free and let loose" life moments through the comedic expressions and heart-warmingly playful antics of the three main characters. The video immerses the viewer in the world of three friends- an auto rickshaw driver, a coconut vendor and a tailor as they take a joyride around the city, doing what most moves them and gives them their spark.
Ritviz, DJ, singer and Hindustani dance music producer, started his career in 2013 and debuted his EP 'Vizdumb' on UK's Relentik Records in 2014. He released 'Mukti' in 2015 that was signed to and released by High Chai Recordings- the US based global bass music label. He has been lauded for his EP, YUV, by the top bass music producers in the country such as Su Real, SickFlip and Nucleya himself. Released under the banner of Bacardi House Party Sessions a year ago, his track 'Udd Gaye' topped the charts and became the 4th trending track across all genres on Apple Music. On YouTube, the track has more than 23 million views and stands at 27 on the top 100 list on Apple Music. His most recent body of original work and already at 92 on the same list, 'Jeet' is the first track of his upcoming full-length debut album 'VED!'.