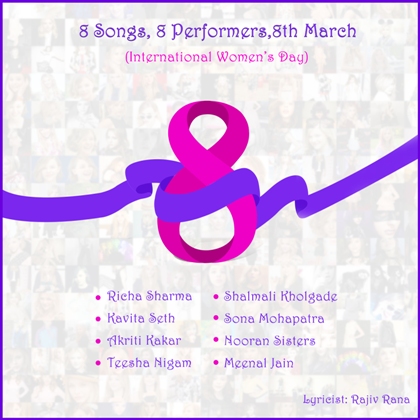 14th March, 2019
Artist Aloud launches '8' – a Woman's day special album featuring Sona Mohapatra, Nooran Sisters, Richa Sharma, Kavita Seth and more
On the occasion of International Women's Day (8th March) Hungama Artist Aloud launched a new album titled, '8' with eight distinguished female musicians. Conceptualized by famed lyricist Rajiv Rana, with music composed by Jassi Nihaluwal and Harpreet Singh, the album features 8 soulful renditions by Sona Mohapatra, Nooran Sisters, Kavita Seth, Akriti Kakkar, Richa Sharma, Teesha Nigam, Shalmali Kholgade and Meenal Jain.
Enforcing the spotlight on and fight for gender equality, the album is dedicated to all the women who are fighting for their rights and empowerment around the world. The album aims to foster a conversation which inspires strong women to come together and support each other to bring about a change. Featuring strong female voices from the industry the album celebrates womanhood and hopes for a better tomorrow.
A prominent voice for a positive change, Sona Mohapatra said, "The album is a celebration of womanhood. It is about strong women and their quest to achieve the impossible. I am thankful for Rajiv for conceptualizing the album and to Hungama Artist Aloud for giving it a wider platform. I am certain that the listeners will be moved by the beautiful poetry and melodies, and comprehend the message behind each song."
The music video of the song, Jug Jug Jeevae that was also launched today, communicates an incredible message and stands for female empowerment and independence. The lyrics of the album promote a focus on inner strength and counter self-esteem and insecurity issues. The album aims to be a reminder for continued push in the right direction.
Talking about the album, Soumini Sridhara Paul, Vice-President, Artist Aloud, Hungama Digital Media Entertainment Pvt. Ltd. said, "It gives us immense pleasure to launch 8 on the occasion of International Women's Day. Every song in the album exudes power, confidence and is the perfect embodiment of the women of today. The album brings together some of the most talented female voices from the industry through renditions that are soulful, meaningful and stay with the listeners long after the songs are over. We are certain that the listeners will enjoy and appreciate the message behind each song."
Rajiv Rana, who conceptualized the album and also wrote the lyrics for all the songs, said, "I hope my words can do justice to the magnificence of women all over the world and can convey my gratefulness to them, just like my heart does. I would like to thank Hungama Artist Aloud and my composers for being a part of this amazing project. A heartfelt gratitude to the women whose pristine voice is the soul of this album – Sona Mohapatra , Richa Sharma, Kavita Seth, Shalmali Kholgade, Nooran Sisters, Akriti Kakar, Teesha Nigam and Meenal Jain. To all the women – It's now time to accept your superiority and charge ahead!"
Popular and celebrated duo Nooran Sisters said, "8 takes the conversation around empowerment further through songs that are about strong women. We are glad that Rajiv approached us for the album and we had the opportunity to sing a song that is relevant and will be appreciated by the listeners."
Speaking about the album, renowned singer Kavita Seth said, "It is extremely important for us to talk about the empowerment of women and the album does that effectively through the powerful medium of music. It is through such efforts that we can have more people discuss issues that matter and take steps to make the society better."
Popular singer Richa Sharma added, "Women empowerment is an issue close to my heart. We need to create a world where everyone enjoys equal rights and status. Music plays an important role in influencing people and I am glad that through Rajiv and Hungama Artist Aloud, I got to be a part of this initiative."
You can find the full album here:
https://www.hungama.com/album/8/47313953/
Watch the music video of 'Jug Jug Jeevae' here:
https://www.youtube.com/watch?v=MHnQSr5s6Cs