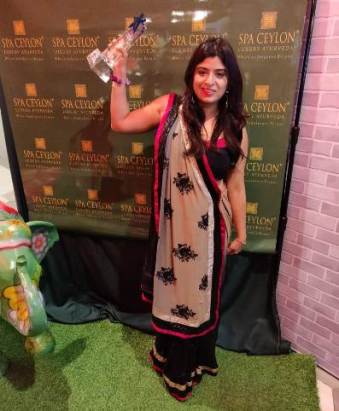 04th April, 2019
New Delhi based artist wins bronze award at VIMA in Malaysia
The world's fourth largest music awards the VIMA music awards presented by Spa Ceylon took place in Kuala Lampur, Malaysia this March. Out of nominations received from 38 + countries all across the world, it was a proud moment for India as New Delhi based Kashmiri artist Pragnya Wakhlu took home two bronze awards in the "Best Genre Bending song"and "Best Overall Female Act" categories.
Her song Katyuchuk My Love from her latest Kashmiri-fusion album 'Kahwa Speaks' rose above song entries from Canada, Japan, India, Singapore and Malaysia to secure the win for for India. This is Pragnya's second VIMA win, after her earlier win for her debut album Journey to the Sun - in 2012.
"I hope this award will create more acceptability and exposure to cross-genre music worldwide and inspire more women to take up music as a career. The reason I wrote this album was so that more people can start looking at the positive side of Kashmir through the music. We need peace in the world, more now than we ever did before. I'm honored to be able to put India's name on the world's music map . A big thank you to the judges at VIMA global,Spa Ceylon and to everyone that supported my music and voted for me" said Pragnya as she accepted her award.
The ceremony saw performances by Singaporean rapper Mas1A who spoke about acceptability of all kinds of shapes and sizes of women in the industry and Beverly Matujal who won first place for Best female act in the Malaysian category. Christine Das who won the "Look of the Year award" spoke passionately about elephant conservationism in Malaysia and how she donates a portion of her profits towards it .All awardees were presented with a gift bag with Spa Ceylon products.
Pragnya is now in the preparation stages of launching a nationwide tour of her album Kahwa Speaks by means of an experiential audio-visual performance platform and story-telling medium. The tour will take audiences through a lens that celebrates the positive side of Kashmir and its culture. She is also hosting a new music show on DD Kashmir to be launched this April .The show focuses on Kashmiri poets and poetesses of yore, mystic poetry and it's relation to Bollywood songs. Her new EP is slated for release this year.
The VIMA awards are Asia's first independent music awards and was launched in 2008 as platform for independent musicians not only in Asia but globally. The VIMA awards are considered the most important and anticipated music award in South-east Asia.