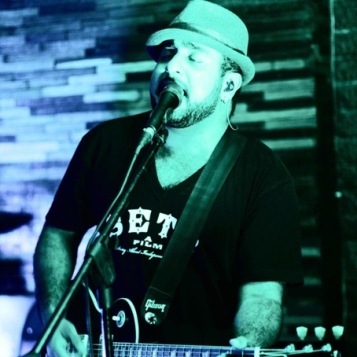 09th April, 2019
Rock band By Chance release debut single 'Blue Sky'
By Chance, a fairly new Rock Band has now released their debut single titled Blue Sky. The song is an old school rock tune with a modern punch and talks about the state of pollution in Rohan Solomon's home city, New Delhi and how he wishes to see the same blue sky as he did when he was growing up. Blue Sky is a fun packed song but talks about pollution and the frustration of Delhi citizens. The band has gone an old school route and have recorded everything in the analog domain at "Engine Room Audio", which is one of the Biggest Recording Studios in New York City.
Rohan Solomon is a complete musician in all aspects of the term, a songwriter, composer, vocalist, music producer, vocal coach and an audio engineer too. He was the Asst Engineer in the Grammy Award winning 'Bubblin' by Anderson Paak.
Rohan Solomon speaking on the launch of the album says, "Blue Sky is based on the nostalgia I feel for my home town, Delhi and my memories of the pure, blue sky of my childhood. About the song technology, It was liberating and refreshing to not be dependent on virtual instruments and MIDI and use only analog equipment to record this song. I feel that's what gives this song its depth"
Solomon started playing the piano and guitar and even writing songs when he was 12 years old. He started off as the lead vocalist and the front man in the popular 4-member alternative rock band in Delhi called 'Cyanide' for over 10 years which has some rocking songs to its credit. With Cyanide he has toured the entire country and has garnered quite a fanbase. Rohan has also played in famous music festivals like 'Great Indian Rock Festival,' 'Eastwind Festival,' 'RSJ Pubrock Fest,' 'RSJ Oktober Fest,' 'Gig Week' and 'NH7 Weekender' to name a few. With Rohan Solomon as its lead vocalist Cyanide got featured in the popular TV show "Channel V Launchpad" in 2007 where they had performed in the finals amidst a 10,000 strong crowd. He is also a music producer and a theatre enthusiast.
By Chance is a fairly new band based in New York. Three friends , who are also business partners have came together and formed this group purely out of their love for music. Members are Rohan Solomon (Frontman and Vocalist of Cyanide & Siren), Jeet Suresh Paul (Frontman and Vocalist of Meaxic) & Chilean Jacob (Drummer and Percussionist for Siren). Recently, the Band released an acoustic cover of a Periphery song called The Way The News Goes in collaboration with another band from New York called "Meaxic".