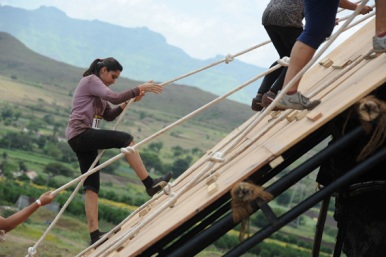 05th August, 2015
The Mud Rush edition 3 beckons this monsoon
Sink in some mud pits, ice holes and climb up net walls and party under the stars…and this is just the start.
This Mud Rush run parallel to the serene Dudhani Lake while trying your hand (and knees) while jumping through fire, pits with four tonnes of ice and much more! End your day with camping and partying under the serene stars and piping hot chai! We bring to you exactly this right next to your city! The Mud Rush (TMR), India's premier adventure sports festival is back in its third edition to awaken the athletic in you!
The event is aimed at being tougher, harder and uncut this year. After the huge success of the previous two editions in Kolad and Pune, The Mud Rush is back bigger and better guaranteeing you much more fun and adventure than before!
This event will not only test your endurance and stamina, but also your ability to help strangers and comrades and mingle with people who love to sport it out and party! All in all, The Mud Rush is a package that offers an overall exciting day filled with action, fun, heart throbbing EDM music and a night under the stars with some cool camping.
What a better way to spend your Monsoons but at The Mud Rush! Our course is designed for fun, for you and your friends to enjoy an exciting day in the rains together.
Also, the fun does not stop at just the run as we believe a true mud rusher should celebrate his achievement! After the mud-astic rushes get over, the participants are free to celebrate their accomplishments all day by the various activities planned out.
So be prepared for a whole day of excitement, fun, and celebration with friends and family. Revive in the midst of beauty, away from the chaos of the city and get muddy by the day and enjoy the insane party scene by night adding experiential value to an individual's getaway!
OBSTACLES
It is an all-terrain, marathon style mud run stretched across 5+kms circuit with 20+ challenging obstacles thrown in your way. These obstacle encompass 30-foot stacks of hay, water bodies, barrier walls, 100 feet stretches of tires, 45 degree hills, fire, ice, and, of course, a whole lot of Mud. We shall make sure you're boosted enough at the start of your run with an energy drink and we shall reward you at the end of it with a beer at the finish line along with a medal for your achievement and memory. So get ready to sweat it out!
ADVENTURE ZONE
We do not just call ourselves India's Premiere Adventure Festival like that… We mean it. Adventure is the fundamental pillar of this festival and we bring to you tons of thrilling activities such as wall climbing, rappelling zip lining, bungee, etc throughout the day in our Adventure Zone. So tighten your laces and get ready to rough it out with these crazy activities!
CAMPING
For such a fun filled and adventurous event, we believe a day alone is not enough. For your comfort, camping tents are also available for the 7th and 8th night inclusive of breakfast and bon fire. Lay under the stars with the beautiful lakeside view and relish in camp side barbeques, variety of eggs, tea and coffee, live counters, alcohol and a sprawl of vegetarian delights.
SUNDOWNER PARTY
The Mud Rush will be host to a post event Sun-Downer party for all to enjoy and dance away to some crazy music. The party, we have all been waiting for is at your feet. Enjoy an evening of EDM music from the best home grown DJs in town. Not to forget the special acts in between to mesmerize you while you are enjoying the party when sitting Lake Side and sipping in on your frosty beverage.
WHEN:
The Mud Rush shall be taking place on Saturday, 8th of August 2015.
WHERE:
With the monsoon here to stay, take a break and leave the city to enter the serene and stunning location of Dudhani Lake, Silvassa
DAMAGES:
Participants (Run + Party) – INR 2500
Sundowner Spectator – INR 1500
Children below 10 years of age – NIL
Children between 10-16 years of age – INR 1500
Tickets on www.bookmyshow.com