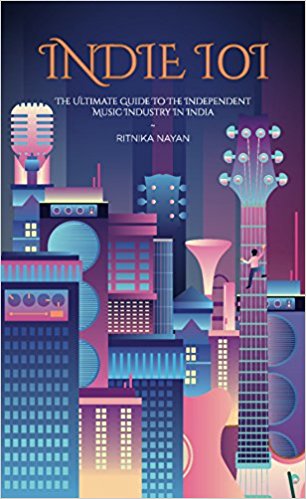 08th September, 2017
Indie 101: Your ultimate guide to the independent music industry in India
"Indie 101: The ultimate guide to the independent music industry in India" a book penned by Ritnika Nayan is a book that every music lover needs to own.
It's the definitive book on navigating and succeeding in today's music industry. The book provides key industry insight regarding management, record deals, live touring, PR, concert and festival production and publishing applicable to new and experienced artists, artist managers, promoters and anyone keen on making music their career.
This book is the first of its kind; which focuses specifically on the Indian music market and is therefore indispensable for anyone interested in music. "Indie 101" features interviews from prominent music industry professionals like Vishal Dadlani, Monica Dogra, Keshav Dhar, Atul Churamani, Tim Clark, Peter Jenner and more; making this a one-stop shop for all things related to the music business in India.
The book was launched on 24th August 2017 at Raasta, New Delhi in Green Park with appearances from Advaita, Half Step Down + Rohan Kale, Frisky Pints, Indigo Children and The Circus.and is now available on Amazon as well as on www.mgmh.net
Ritnika Nayan is the owner of the music company 'Music Gets Me High' and has been working in the music industry for over 17 years in New York, London and India. She has worked with artists like Maroon 5, Nickelback, Counting Crows, Manu Chao, Guns & Roses, Nucleya, Advaita and Jalebee Cartel to name a few. Her expertise lies in artist management, and concert and festival production; having worked on events like Sula Festival, Ziro Festival, Eastwind Music Festival, Moto Spotlight etc. Ritnika is an active member of music conferences worldwide and has also been a panelist at the Music Expo in Los Angeles, the Electron Festival in Geneva and the Amsterdam Dance Event - Mumbai Sessions.
This is Ritnika's second book on music, in 2010, she released Hub - India's first book on electronic music in conjunction with Samrat B. and the Goethe Institut.
Here's what the music industry had to say about "Indie 101":
"This is brilliant, what a book...the only information treasure out there" - Subir Malik (Parikrama)
"The survival guide to the music industry by Ritnika Nayan that every musician should read; a gem of a book by its youngest insider" - Achille Forler (Universal music publishing/Indian performing rights society)
"Indie 101 is thorough, insightful and informative" - Nirmika Singh (Executive Editor, Rollingstone Magazine)
About Ritnika Nayan:
Ritnika Nayan started her musical career in 2001 at Hofstra University, New York, where she worked in the concerts division of the University for four years. During this time, she organized shows for artists like Maroon 5, Nickelback, Counting Crows to name a few. After completion of her Bachelor's degree in TV/video from Hofstra, she returned to India, where she dabbled in television and film.
In 2006, Ritnika moved to London to pursue her masters in music business management from Westminster University. She worked as a promoter in London for a year managing concerts at venues like the Troubadour, 100 club, Borderline and Nambucca. After a brief work stint at Sincere management (Peter Jenner), Ritnika moved to India to set up her music company 'Music Gets Me High' that deals with artist management, live concerts & festivals, social media, and runs a rehearsal studio – Sound Station.
The British Council named Ritnika 'The Young Music Entrepreneur' runner up and she also won the prestigious Indiafrica Visionary Fellowship. Named one of the 'Top Guns of India' by India Today Aspire Magazine, Ritnika has spoken at various conferences and events like Music Expo in Los Angeles, the Electron festival in Geneva, Amsterdam Dance Event in Mumbai, TEDx – Pilani as well as at the University of Mauritius. Some of the major projects that she has been involved with include Guns & Roses India Tour, Manu Chao India tour, Tiny Fingers India Tour, Sula Festival, Moto Spotlight series, Ziro Festival of Music and Nucleya – 'Horn Ok Please' tour.