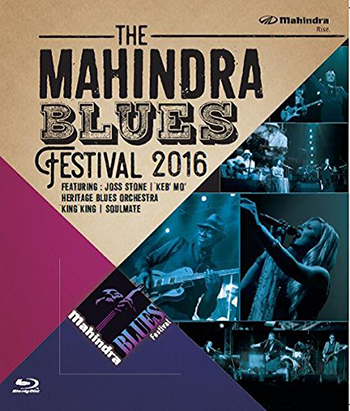 The Mahindra Blues Festival 2016 – (Sony DADC) Rs. 999/-
Music, like all other fine arts - from Painting to Dance, from Cinema to Poetry - is a matter of purely personal and subjective taste - and each has his or her own choices and likes and dislikes and loves and hates. Especially so in Music - considering the added issue of circumstances and moods of the persons listening and performing. While there are certain objective matters of technique in music - likes and dislikes and loves and hates - are, more often than not, based on subjective perceptions of the performer and listener - subject to circumstances and moods of both - and the issues of technique are then used to address the finer points of the performance.

The music has to make an emotional impact on the listener and touch the listener into evoking a Wow! for it to earn accolades - irrespective of whether it displays considerable technique or not. Otherwise, all the technique it displays (assuming it has some to begin with) is a considerable waste of emotions. And that is a precious waste.

This perspective and context is important for all reviews, and especially so for what follows below, the review of the Blu Ray of the Mahindra Blues Festival 2016.

The fare comprises 12 tracks spread over a little more than 70 minutes total, giving an average of 6 minutes per track, and considering that it is a Blu Ray - there is a huge amount of space completely unutilised. I will come back to this issue when I will address the technicalities of Blu Ray later.

The 12 tracks are: 1) Mojo Working, 2) Up Above My Head - by Soul Mate, 3) Get Right Church, 4) Joliet Bound - by Heritage Blues Orchestra; 5) Come On Back, 6) Perpetual Blues - by Keb Mo; 7) Long History of Love, 8) Jealousy - by King King; 9) Right to be Wrong, 10) Son of a Preacher Man, 11) Spell on You - by Joss Stone, and 12) Knock on Wood - which is a Jam with all artists as above and their bands.

If I were to sum up in one word most of the 70 plus minutes I witnessed and heard, the word most easily that comes to mind is "Bland".

Most of the music failed to make any emotional impact on me, and it certainly is NOT for lack of technique. However, technique by and of itself is not a given for invoking a positive emotional response. There are flashes of brilliance as noted below:

Track 4 - by Heritage Blues Orchestra. While most of it is bland - there is an exquisite solo on the Harmonica by a gentleman whose name does not appear anywhere.
Track 5 - by King King. Again it failed to evoke any emotions - except for the guitar solo by the lead vocalist-guitarist of the band. And yet again he is nameless.
Track 12) - All Star Jam. This is the standout track on the Blu Ray - and mostly due to some very good guitar solos by artists who again remain unnamed.
Tracks 9) and 10) by Joss Stone started out well - but failed to keep up the enthusiasm for me. A story of lost potential.

Now for the technicalities of the Blu Ray and the problems with this particular Blu Ray of the Mahindra Blues 2016 Concert. As mentioned above, the Blu Ray had more than enough space to spruce up its life, but it was NOT done.

1) The Blu Ray was completely devoid of any CREDITS anywhere - NO NAMES of any of the artists who performed in the festival.

And that is a crying Shame.

Irrespective of whether I like the music or not (which is a subjective matter - and NOT an arbiter of truth) - the artists Deserve to be acknowledged for putting in the hard work to keep the audience entertained. And yet, when the time comes to name and thank them in the mind's eye - they go anonymous and missing.

2) While the video of the Blu Ray was good - the Audio was NOT. The audio was hazy and lacked clarity and detail and crispness. A live concert is an audio-visual experience and despite the visuals, if the audio is poor then the concert will not generate a positive impact. There can be no two ways about it.

Again, while the Blu Ray had enough spare space - the audio was default Dolby Digital Stereo - i.e. 2 channels of Lossy Dolby Digital audio. Not 2.1, Not 5.1, Not 7.1. Not Dolby True HD, Not DTS Master HD.

Please note that I am NOT complaining about the lack of a 5.1 or 7.1 or Dolby True HD or DTS Master HD - though I would have liked to have them. For me, the complaint is far more serious. Even if the audio had to be restricted to 2 channel Stereo only - WHY NOT use a lossless format such as LPCM Stereo???

And that is the double whammy for the music, not only was it mostly bland for my tastes, it was also recorded lossy, further knocking down clarity and detail from what should have been a Crisp recording. And there can be no excuses for this, for there was more than enough room to spare on the Blu Ray.

It is Not that my equipment is at a loss here - for I have some beautifully and exquisitely recorded Audio-Visual Treats of live concerts viz:- the New Year Concerts of 2014 and 2015 by the Vienna Philarmonic Orchestra conducted by Daniel Barenboim and Zubin Mehta respectively - Diana Krall live in Rio - and Chris Botti Live with Friends.

All of these have fare that goes on an average to 145 minutes (almost twice than that of the one under review) - and each has audio in at least 2 formats (both lossless) i.e. LPCM 2.0 (Stereo) and DTS Master HD or Dolby True HD 5.1 to boot. So there go all excuses for lack of space on the Blu Ray.

These are some of the best concert recordings I have in my personal collection - and they play with complete Audio-Video fidelity of either of the audio settings on my 7.2 Home Theater which is powered by a Pioneer SC-LX 87 AV Receiver and a Sony BDP-S490 Blu Ray player - and a combination of Polk and Onkyo speakers and subwoofers.

Ironically, the back cover of this Blu ray mentions Dolby Atmos - but when I spin the disc - there is NO option anywhere on any Menu to change the audio settings from the default Dolby Digital Stereo to anything else.

I know that my setup cannot do Dolby Atmos. But I also understand that any Dolby Atmos track is built on a Dolby True HD core and to which it automatically defaults if the setup cannot handle Atmos. This much my setup can also certainly do. But yet I get no option to do so and neither does it happen automatically as it should. Am I missing something here???

Again, ironically, both the New Year Concert Blu Rays have been mastered by SONY Europe. And what a contrast they are to the current Blu Ray by SONY DADC. I find it baffling to note that when both space and technology are available with SONY -- yet SONY DADC has completely missed out on it.

​IMPORTANT: As I have stated above, all matters of Music are purely subjective and contextual. Hence, while I have not enjoyed this offering and have a negative after taste, a lot many of you out there (or at least a few of you out there) may enjoy it fully or mostly. Hence, I urge you to be reminded of this caveat and approach the Blu Ray with as open a mind (and eyes and ears) as possible.​

Rating **

By Rajendra (Raj) Chittar

Rajendra (Raj) Chittar is based in Bengaluru. He is a retired theoretical Computer Scientist/Software professional. He now luxuriates in his modest but slowly growing collection of Hindustani & Western Classical, Jazz, Classic Rock, Bollywood (pre-1980) music and his books on Mathematics and Physics.

He can be contacted via email rajendra.chittar@gmail.com or on cell +91-8105977500.