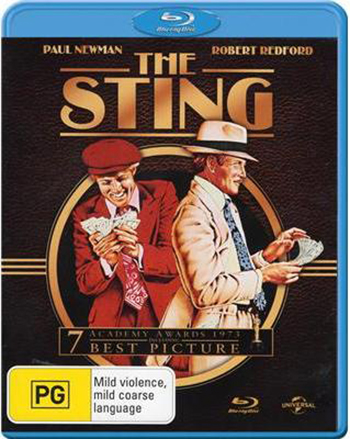 The Sting - (Import)
Cast: Paul Newman, Robert Redfort,
Directed By: George Roy Hill
This is a 1973 caper that won 7 Oscars and deservedly so. It should have won more. It is the story of 2 conmen pitted against a mob leader, and is a movie that abounds in delightful twists and turns, which build up a brilliant tale brick-by-brick, leading to the final denouement, which is rather subtle and it only hits you about 30-60 seconds later. And what a wonderful AHA moment that is.

This is a perfect movie in almost every sense, direction, acting, script-screenplay, costumes, et al, and last but not the least, the music. The director is George Roy Hill, an under-rated director, in my opinion, and this is his second outing with the lead pair of Paul Newman and Robert Redford (the 2 conmen), after the equally brilliant, but under-rated "Butch Cassidy and the Sundance Kid". The mob guy is Robert Shaw. And there is an entire supporting cast, which is the backbone of the story, which puts in a spirited performance. It is evident that this entire team had a ball during its making.

The film is played in the prohibition era, in and around Chicago. Everything about the movie reflects this era, and this is indeed a perfect period piece. And it is not a big-budget one. Most of the scenes are indoors, without lavish costumes or luxurious settings.

Then there is the music. The centrepiece belongs to Scott Joplin's ragtime piano rolls, subtly improvised and orchestrated by Marvin Hamlisch, who also adds his own compositions. The result is nothing short of a celebration. Not only is the music divine mix of melody and harmony and swing, it beautifully complements the story and the characters (their feelings and emotions) and is instrumental to it. Yes, the music is entirely instrumental, and by itself, it can almost tell you the story.

The script-screenplay is on a completely different level. While it is generous in its usage of slang of that era, of the profession, it does not have place for profanities or vulgarities. And there is no show of skin. This is all the more remarkable as the story of the con is conceived in a brothel (which also acts as the base from which Newman and Redford act). Also, there hardly are any scenes of brutality in it. In these days of blockbusters, it is incredibly difficult to imagine that a movie without violence or sex or profanities, can still win hearts and minds and be a celebration of the art of movies.

The movie has become addictive on me, despite knowing the climax, and I have seen it umpteen times rejoicing each time. This holds a cherished place of pride in my collection and also happens to be my all time favourite Hollywood movie. The best there can be. And Hollywood does not make movies like this anymore.

The Blu ray is nothing exceptional, the transfers are good, the picture is grainy at times and the sound mostly stereo, though once-in-a-while the Surrounds see action. But none of that takes away anything from the movie, as it does not need these crutches. the movie's brilliance in all aspects of movie making steals the show, literally.

To those who have not seen this, please put it on your list of Top 5 things to do before you die. And put it on the top of the list.

Rating: *****
Rajendra (Raj) Chittar is based in Bengaluru. He is a retired theoretical Computer Scientist/Software professional. He now luxuriates in his modest but slowly growing collection of Hindustani & Western Classical, Jazz, Classic Rock, Bollywood (pre-1980) music and his books on Mathematics and Physics.

He can be contacted via email rajendra.chittar@gmail.com or on cell +91-8105977500.