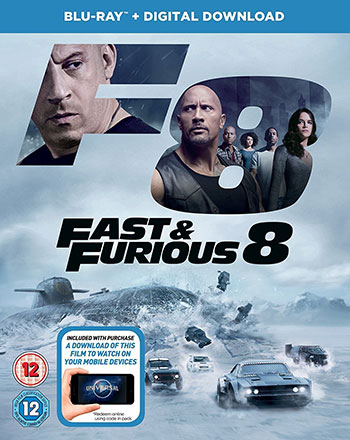 Fast & Furious 8 – Reliance Home Entertainment - Rs. 649/-
Cast: Dwayne Johnson, Vin Diesel, Michelle Rodriguez, Charlize Theron, Jason Statham, Kurt Russell, Scott Eastwood, Ludacris
Directed by: F. Gary Fray
Love cars? Well then climb in the driver's seat, fasten your seatbelts and hit the road for the latest in the ever popular movie series, that brings in the usual mix of action with vehicle mayhem, bullets flying, and stunts that will make your eyes pop out.
Whilst on honeymoon with his new bride Letty (Michelle Rodriguez), Dom (Vin Diesel) is blackmailed into helping the gorgeous but evil terrorist Cipher (Charlize Theron) to do bidding for a Russian deal which only Dom can handle. Dom cannot refuse to do it, as Cipher knows his weak points. Not only this, Cipher has more tasks for Dom before he is released from her clutches.
On the other hand Dom and his team, who he considers his family, are recruited by DSS Agent Luke Hobbs (Dwayne Johnson) to help him recover an EMP device from a military outpost in Berlin. Dom has also been told to take the device for Cipher. Cipher makes Dom work against his own team, something he is forced to do.

Failure puts Hobbs behind bars where he meets Deckard (Jason Statham) who he'd helped imprison. The two manage to escape and are recruited by intelligence officer Frank Petty/Mr Nobody (Kurt Russell) and Eric Reisner (Scott Eastwood). Hobbs comes to know of Dom and Cipher and brings on his team Roman (Tyrese Gibson), Tej Parker (Ludacris), Ramsey (Nathalie Emmanuel) to put sense into Dom and work together to track Cipher.

The film begins with a street race in Cuba and ends with a chase that takes the team from the Big Apple to frozen Russian wastelands.
Go behind the scenes with bonus material to witness how the team accomplished the most epic stunts, some defying the laws of gravity in 'All About The Stunts that has the Malecon Street Race, Iceland Stunt Diaries, The Streets of New York and Extended Fight Scenes that show the Prison and Plane fights, that is sure to keep fans of the series happy.
Rating: ****
Reviewed by Verus Ferreira