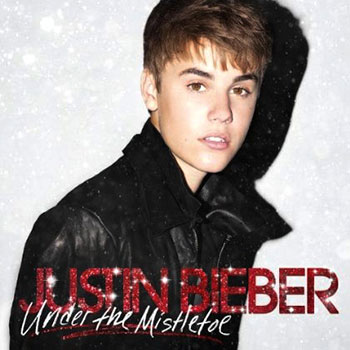 Under the Mistletoe – Justin Bieber – (Universal Music) Rs. 295/-
If you just can't have enough of the darling of teen pop, bring him home now to set the mood for Christmas. The teen who has a blockbuster career right now, holds his own style when it comes to crooning Christmas songs. As seen in his latest contemporary album, Bieber has set the groove with R & B and EDM and brings on a different set on his Christmas album.
On Santa Claus Is Coming to Town, Bieber opts for a bit of Motown flair and a call-and-return vocal style. The lyrics that go Shake it, shake it, baby's are playful.The Christmas Song (Chestnuts Roasting on an Open Fire) has his mentor Usher who tugs him onto a more mature piece of work. All I Want for Christmas Is You recreatesthis modern classic with pop diva Mariah Carey's help. Quite a surprising song for Justin to sing, considering the wide age factor between him and Mariah. But then this is Christmas and it still trumps as a favorite here. Fa La La brings onBoyz II Men, with the smooth R & B vocal harmonies playing over Bieber. Drummer Boy an all time classic is sadly not up to the mark, while Home This Christmas sees Bieber hooked up with country artist the Band Perry, for this wistful ballad. Christmas Eve has a good slow jam and is pure pop. Bieber ends his Christmas wishes with the nostalgic Silent Night in true divine style.
The album is a seasonal mix of traditional Christmas standards and newly penned holiday music largely co-written by Justin. While Bieber's fans would love this, the songs being Christmas would also appeal to an older audience. This is a perfect opportunity for Justin to gain some fans that don't fit his target.
Rating: ****
Reviewed By Verus Ferreira