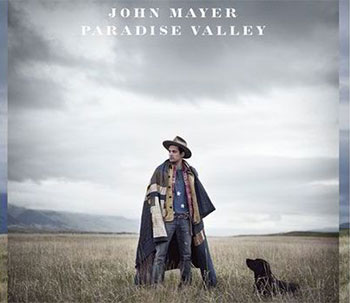 Paradise Valley - John Mayer - (Sony Music) - Rs. 499/-
He first hit the headlines a little over a decade ago, with his Grammy-winning pop-rock song 'Your Body Is A Wonderland'. His debut album 'Room for Squares' became a hit, and he quickly gained international fame.

Today, John Mayer has turned out to be one of the most prolific singer-songwriters and talented guitarists of modern times. He has matured as an artiste, moving from pop-rock to a soul-meets-blues-rock sound on the albums 'Continuum' and 'Battle Studies', to more folk and country-driven music in the 2012 release 'Born & Raised'. On the live circuit, he formed a blues-rock group John Mayer Trio, and on his own played with hip-hop stars like Kanye West and Common, blues biggies Buddy Guy, BB King and Eric Clapton, and jazz guitarist John Scofield. That's some versatility.

On his latest album 'Paradise Valley', Mayer continues from where he left in 'Born and Raised', sticking to tunes reminiscent of Crosby Stills Nash & Young, the Byrds and early Grateful Dead. The sound is a neat blend of country, folk-rock and the California sound of the 70s, with ample use of pedal steel guitar and dobro. What's really creditable, of course, is that he's created such brilliant songs after two throat surgeries.

Like 'Queen of California', the opening song of 'Born & Raised', Mayer begins with a number that's pretty inspired by the Grateful Dead. 'Wildfire' has an infectious hook, and the catchy lines "Say, say, say, Ain't it been some kind of day, You and me been catchin' on, Like a wildfire." Charming work on the pedal steel and a smart, extended blues-rock guitar climax add to its beauty. The song has a shorter version, with singer Frank Ocean, used more like a filler in the middle of the album.

'Dear Marie' takes a nostalgic look at a past relationship, with incredible lines like "From time to time, I go looking for your photograph online, Some county judge in Ohio is all I ever find." This is followed by a pleasant, optimistic ballad 'Waiting on the Day', which has a burst of melodic slide guitar.

'Paper Doll' is a rejoinder to ex-girlfriend Taylor Swift's dig at him in 'Dear John', as Mayer sings, "You're like 22 girls in one', an obvious reference to her single '22'. Next up is a crackling version of the late JJ Cale's classic 'Call Me The Breeze'. It's played marvellously, though one wonders why it comes to such a sudden end.

Mayer's on-off girlfriend, Katy Perry co-writes and does a guest singing appearance on the ballad 'Who You Love'. She sings soulfully, but this is probably the only weak song on the album, thanks to a hackneyed tune and mundane lines like "You'll love who you love who you love."

Mayer, however, gets into reflective mood on 'I Will Be Found (Lost at Sea)', where he sings, "I'm a little lost at sea, I'm a little birdie in a big old tree, Ain't nobody looking for me, Here out on the highway, But I will be found, I will be found, When my time comes down, I will be found."

The last three tracks are absolute beauties. With its country pedal steel backdrop, 'You're No One Till Someone Lets You Down' talks of heartbreak and breach of trust, as Mayer sings, "You believed that all people are kind, And that you'd never mess with your mind, You gave her your trust, And she busted your crown, You're no one 'til someone lets you down."

'Badge and Gun' has a wonderful melody, and the opening lines "Give me my badge and gun, Give me the road that I may run, Give me that peaceful, wandering-free I used to know" brim with nostalgia. The album concludes the folk-driven 'On The Way Home', with Mayer singing, "But just remember on the way home, That you don't ever have to feel alone."

Like 'Born & Raised', 'Paradise Valley' is co-produced by the veteran Don Was. If the earlier album had more diverse orchestration, using keyboards and harmonica too, this one concentrates mainly on guitars and basic rhythm back-up. The songs are never long, and use just the right amount of orchestration. Most important, they sound better and better on repeated hearing, winning you over with their simplicity.

The only question is: Now that he's released two marvellous country-based albums, what sound will Mayer choose in his next album?
Genre: Folk / country-rock

Rating: ****

Reviewed By Narendra Kusnur
Narendra Kusnur has been in the field of journalism for over 30 years and has been a music columnist with Mid Day publication for 10 years. He has also worked with EMI Virgin as a label manager and later with Reliance Retail as a Chief Manager. He presently is a freelance journalist and writes for Mid – Day (Mumbai) and The Hindu (Mumbai edition).