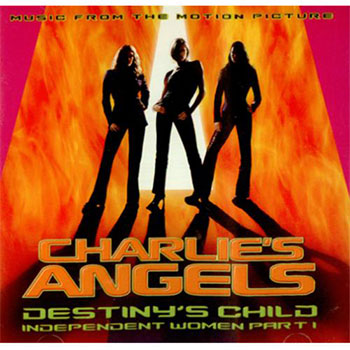 Charlie's Angels- OST- (Various) – (Sony Music)
The movie 'Charlie's Angels'was been a hit in the US and even in Mumbai the response was phenomenal. Based on the American TV serial, which ran from to 1976-1981, the sound track has some catchy gems from that era and genre. If the 70's were about bell- bottom pants and groovy disco music one can clearly state after just a listen to this soundtrack that they sound better than the freshly recorded hit material that the album boasts about.
Fast forward to the favorites like 'Heaven Must be Missing an Angel' (Tavares), 'You Make Me Feel like Dancing' (Leo Sayer), and the disco linked love song by Spandau Ballet 'True'. But that's not all as Marvin Gaye's classic 'Got to Give it Up' and 'Barracuda', by Heart, though a little loud, deserve special mention. Newly recorded material includes Destiny's Child mega smash hit, 'Independent Woman'' and Fat Boy Slims 'Ya Mama'. Rocker Aerosmith seem to have a penchant for soundtracks these days. Their new single is the first to have been recorded since their 1997 album, and is surely a headbangers delight.
If the movie was a visual pleasure, the soundtrack surely holds the listener, be it partying at home or in your private disco. All the songs in this collection are featured in the motion picture .So check it out.
Rating: ****
Reviewed by Verus Ferreira