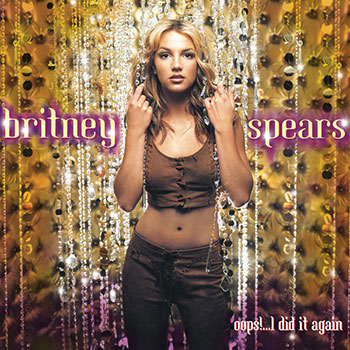 Oops'…. I did it again – Britney Spears - (HMV)
Even since she hit the pop scene not so long ago, Britney's been the biggest paradox of pop culture – a tantalizing blend of innocence and oomph. All babe, yet all woman too.
One of her older offering is as cool as you've heard her: sassy, sexy and solidly in control. The more noticeable aspect of the single, Oops, I did it again, the video and the entire album is maturity. Spears definitely boasts startlingly mature vocals which give depth to the infectious dance pop ballad single, that is sure to be on the lips of every Britney fan. The funkier spirit is loud and clear on uptempo rump shakers like, Stronger, and Don't go knocking on my door which find Britney in a frisky and fierce state of mind. Her ballads, "When your eyes say it", shows her depth of communication with her fans. The Mick Jagger (I can get no) Satisfaction, is passable compared to the rocky Jagger version. One listen to this album, and Britney will make a believer out of you- one more time.
Rating: ****
Reviewed by Verus Ferreira