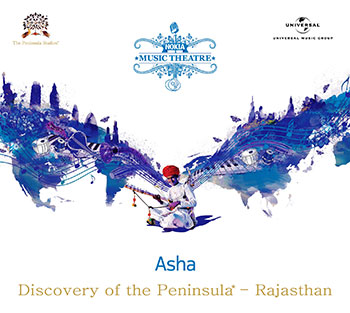 Asha - Discovery of the Peninsula Rajasthan – (Universal Music) – Rs. 175/-
Nokia India has launched Nokia Music Theatre, a first-of-its-kind platform for discovering and nurturing musical talent from the grassroots in the country and providing them with an opportunity to showcase their talent.
The project was piloted in Rajasthan in 2010 where 17 artistes were handpicked from small towns and villages across the state. This culminated with the launch of the first music album – "Asha – discovery of the Peninsula". The project was in line with its strategy to connect people to their passions in partnership between The Peninsula Studios, USA. This brings out the rich and diverse musical heritage of India.

The recording on this disc has been done by the studio in a single take. Nurturing diversity in music and reviving forms of music on the brink of extinction is what got the project off the ground. The sound is raw and brings forth the untapped talent of the performers in their real avatar as they perform live.

Going back to 2010, Nokia Music Theatre reached out and recorded 722 musicians from small villages and towns of Rajasthan, taking totally 3600 minutes of recorded music, evaluated it with 30 musicians. The audition process saw a diverse array of alternative genres of music from folk, classical, spiritual, tribal, Sufi, thumri, khayal to instrumental. They then curated the content and mentored 17 artistes for the final cut using heavyweights from the music industry including Shuzaat Khan, Zeb and Haniya among others. The instruments on the album include Dholak, Harmonium, Sarangi, Bhapang and Morchang, Morchang and Khartaal among western instruments. These 17 musicians were then put through a rigorous training for three months in the summer of 2011 after which the 17 created and recorded 10 great tracks which were mixed and mastered in London.

So sit back and get enthralled to some fabulous music by unknown, but extremely talented musicians.


Rating: ****
Reviewed By Verus Ferreira