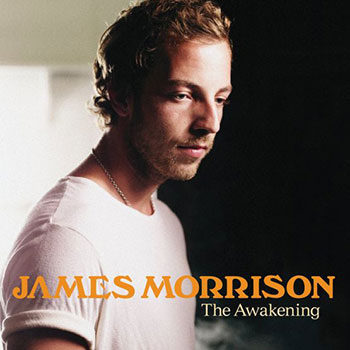 The Awakening – James Morrison - (Universal Music) - Rs. 295/-
Soul singer James Morrison has two albums that have reached the top of the UK charts, but his popularity has not been sky high. With his latest work he hopes to achieve the potential to blow us out with his soul stirring music, passionate lyrics and deliciously poignant vocals. Lyrically too, he has matured from his last two albums and his poetic storytelling makes for a perfect listening. The songwriter and guitarist took about three years to make the album, influenced by the death of his father, as well as Morrison's own steps into parenthood.
A close lookalike of 80s rocker Bruce Springsteen and sometimes sounding similar, Morrison takes on producer Bernard Butler to fine tune his music into a classic but contemporary soul sound. The opener In My Dreams is a mellow but melodic song that puts you in the mood right away. It's a perfect combination of traditional R&B and British soul. A few places ahead we have Morrison's duet with fellow English singer, Jessie J on Up. I Won't Let You Go is another solid and rich track in musical quality. Morrison's songwriting is compact which means every track is worth a listen.
While he has made a part of the albums songs related to his alcoholic father's death, the other half is something what he wanted to achieve musically. Morrison's husky-voice is the high point here, there's no mistaking its huskiness. The 12 tracks are polished from its lyrics to Morrison's optimistic delivery. Try out In My dreams, Person I should have been and The Awakening to really get a feel of Morrison's vocal capacity.
The 27 year old really pulls all the strings to make it really fab. Beautiful Life has a catchy beat that you can easily tap your feet to, with vocals to match. The background vocals add a little spice to the whole production. The scatting at the end fits perfectly with the rest of the song. Morrison is in a niche of his own and appeals to a wide audience.
You might want to give this album a miss. It's surely worth another listen, you might just catch the good songs.... for there are a couple of them here.
Rating: ****

Reviewed By Verus Ferreira