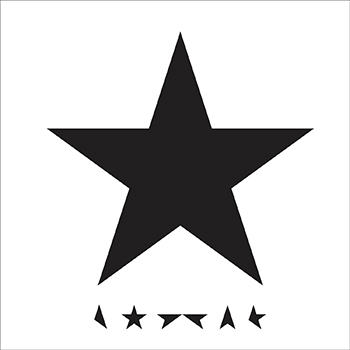 Blackstar – David Bowie – (Sony DADC) – Rs. 499/-
The full jacketed black inlay packaged album has a star as its cover image and while it is symbolized as a Black Star, it is otherwise pronounced and stylized as 'Blackstar'. Bowie's fondness for space began early in his career with songs such as Space Oddity and Life on Mars? Later on, songs from this 70s singer who rose to fame with songs like Under Pressure, Heroes, Absolute Beginners, China Girl, Let's Dance made him a household name. Bowie sadly passed away (10th January 2016) two days after he released this his twenty-fifth and final studio album on 8th January 2016, coinciding with his 69th birthday.
While Bowie stayed more in the pop – rock genre during his career, the elements surrounding this Brit artist final swan song, shows that he has used a bit of jazz collaborators, some psychedelic art rock, funk, part electronica with a mid-tempo feel prevailing throughout in this album. 'Blackstar' brings on a talented group of musicians from his longtime right-hand man, producer Tony Visconti, to celebrated modern jazz saxophonist Donny McCaslin and percussionist Ben Monden.
This seven track album, with all lyrics by Bowie, greets fans with the opening title song Blackstar a sprawling track, a neat ballad with an eerie feeling running through, that clocks a little over nine minutes. The heavy beat is spacy while his vocals are mysterious. A little bit of fantasy is used in Lazarus that talks about a ghost who drops his cellphone from heaven to the earth below. You have the very striking ballad, Sue (Or in a Season of Crime) that takes the story of a murder mystery. Dollar Days is the confession of a restless soul who could not spend his golden years in a blissful British countryside even if he wanted to. The lyrics go "I'm dying to push their backs against the grain and fool them all again and again." The last track I Can't Give Everything Away, shows of a tortured mortal who wishes to give all he can, but something pulls him apart from doing so. You can unravel his lyrics "Saying no but meaning yes, this is all I ever meant, that's the message that I sent" to him singing over and over "I can't give everything, I can't give everything away." Don't miss the clever use of synthesizer and the incredible guitar solo.
Upon its release, the album was met with critical acclaim and commercial success, topping charts in a number of countries in the wake of Bowie's death, and becoming Bowie's only album to remain at the number one position on the Billboard 200 charts in the United States for three weeks.
At the 59th Annual Grammy Awards, the album won awards for Best Alternative Music Album, Best Engineered Album, Neo Classical: Best Recording Package, while the title song from the album won Best Rock Performance and Best Rock Song. At the 2017 Brit Awards, the album won Best British Album of the Year.
A pretty good album from one of the best music artists of our time. If you have never listened to David Bowie, this album would be the wrong one to start off with, try to check out his early career breaking albums and then follow it up with this brilliant piece of work, to understand not only Ziggy Stardust's music, but also the artist who is no more with us, but has left us with an amazing spectrum of music to last a long time.
Rating: ****
Reviewed by Verus Ferreira