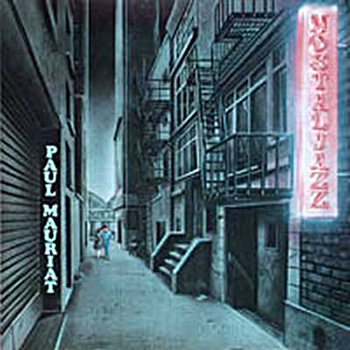 Nostaljazz by Paul Mauriat
When it comes to legends in the genre of Easy Listening (orchestra or big band) - quite a few names come to mind - James Last, Franck Pourcel, Frank Chacksfield, Bert Kaempfert, Annunzio Paolo Mantovani, Herb Alpert, and many more. I have enjoyed and loved their music without a doubt, and I still do - but in my opinion, there is one name that towers above them all - the legend of legends, Paul Mauriat.

Why do I single him out? Well, there are enough reasons, but mainly, for his highly original, innovative arrangements and the lush sound (never ever harsh or piercing) of his Orchestra (especially the String section). Most of his arrangements were based on fabulous strings of his orchestra and backed by an equally fabulous brass-woodwind section and often had unusual rhythms even if based on the usual time-signatures of 4/4 or 8/4. His orchestra was mostly acoustic with the odd electric piano or guitar.

I owned quite a few of his albums and the best sounding of those albums were recorded on the Philips labels. These were mostly the early 1970s ones when he was at his mature best and then towards the late 1970s or so, he went electronica and that is where I lost him. It is not that these albums had lost the characteristics mentioned earlier - which I held in high esteem - but somehow all that emphasis on electronica put me off.

​And then, all of a sudden, as if the past put its hand out and reminded him of his acoustic roots in Classical and Jazz ​he returned with an album which I consider to be among his best. It was titled Nostaljazz - and was his own original and innovative take on some of the most famous and iconic Standards that Jazz had to offer. It was his version of a kind of Symphonic Jazz - a genre that was set in motion by George Gershwin in the early 1900s in USA. And, most importantly, it was Acoustic - with just an Electric guitar.

​There are 4 characteristics of this album:-
1) It is played by a limited ensemble of about 30 musicians - and not his entire Orchestra.
2) Most of the tracks are based on the String section - with a few solos featuring Trumpet, Piano, Guitar, and Cello - and expertly backed by the Brass-Woodwind section.
3) The role of the Double Bass is taken on by the Bass Guitar.​
​4) The quirky unusual rhythms all over - even within standard 4/4 or 8/4 time signatures.

The CD opens with In the Mood - a rousing fanfare of pure brass with Mauriatian quirks a plenty in the middle and the end. This is followed by Stardust, a mellow and soulful journey of piano and strings with a twist in the rhythm. Then come 2 of my favourites Caravan which is built on 8-time but has very unusual rhythms within the bars, and Stormy Weather which has one of the most exquisite Guitar solos ever played, but unfortunately it is a short track and one is desperately left for wanting more.

The iconic Take 5 with its path breaking signature of 5 time - a pioneering masterpiece by Dave Brubeck and Paul Desmond comes next. Paul Mauriat wisely refrains from innovating this any further than the original but loses out on the drum solo. Tenderly comes across tenderly with a symphonic string section and features yet another exquisite but short solo - this time it is the Cello. Another Brubeck and Desmond masterpiece takes the stage, the Turkish inspired Blue Rondo a la Turk with its insane mix of 9 and 4 time signatures. Mauriat, however, puts an surreal twist in the middle - with the strings and the drums but with t time signature that is difficult to figure out.

Misty follows with yet another gorgeous solo on the Piano. Night and Day is based entirely on a framework of a tantalising rhythmic structure comprising the guitars and drums, with drum beats between bars!!! Tea for Two is standard issue Paul Mauriat. My Funny Valentine has a gorgeous opening with strings and followed by a tender trumpet solo. The CD closes out with a piano solo on Dream a Little Dream of Me.

The soloists are: Hubert Varron (Cello), Eric Giausserand (Trumpet), Jean-Claude Chanavat (Guitar), Gilbert Gambus & Robert Persi (Piano), Philippe Chayeb (Bass Guitar), and Andre Ceccarelli (Drums).

The recording on Philips is superb and one can hear each instrument clearly and just about where it is placed which gives brilliant stereo imaging. My only nit-pick is that the tracks are short - and one wishes for more of such exquisite beauty.

Highly Recommended.

Rating *****

Reviewed by Rajendra (Raj) Chittar

Rajendra (Raj) Chittar is based in Bengaluru. He is a retired theoretical Computer Scientist/Software professional. He now luxuriates in his modest but slowly growing collection of Hindustani & Western Classical, Jazz, Classic Rock, Bollywood (pre-1980) music and his books on Mathematics and Physics.

He can be contacted via email rajendra.chittar@gmail.com or on cell +91-8105977500.