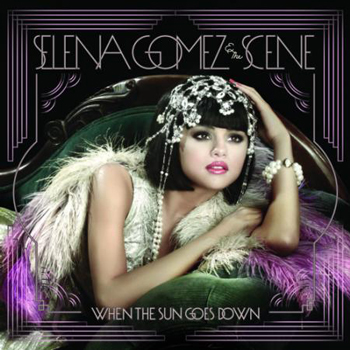 When the sun goes down – Selena Gomez – Universal Music – Rs. 295/-
She's not the centre of attraction just because she was the girlfriend of one of the world's biggest teen stars Justin Bieber, but Selena Gomez's third album 'When the Sun Goes Down' has stirred a buzz in the music industry for its catchy bubblegum pop tunes, slight funky pop - techno and ballads that will appeal to teens, more for its feel good lyrics. The once Disney star has moved on to more serious stuff and brings something to look forward to. Compared to her earlier two albums, this work sees the rising pop star in a new light.
The album comprising of 12 tracks belongs ideally to the pop genre. On the opener the punchy Love you like a love song Selena talks about about being so in love, that you want to replay every moment with the person over and over again, just like your favorite love song. Very creative, we'd say. Songs like Who Says, Middle of Nowhere and We Own the Night are very poppish and enjoyable with simple guitar notes as backup and mid tempo. Selena's voice is uplifting, very close to the likes of Miley Cyrus. She has tried a bit of experimentation on songs like the electro-disco ditties like Bang Bang Bang, Outlaw and When the Sun Goes Down. Hit the Lights and Whiplash are club dance songs with a good balance of vocals and orchestration. You could also check out the neat chunky beats and catchy chorus on 'Middle of Nowhere'. If you listen to the lyrics it makes a direct connection between the artist and the fan.
Selena has taken help from her friends to bring out this album. Thus you have Whiplash co-penned by Britney Spears and very much sounding close to Womaniser. You also have the heavy synths in That's More like It co-written by Katy Perry, where Selena tries hard to come strongly with Perry's girl-power lyrics, but sadly fails. There's also the relatively unknown Brit girl singer Pixie Lott who fills in with Selena on the balladic We own the night, which speaks about spending good times with friends and putting your day-to-day problems aside..Besides the singers who helped her, Selena has also worked with an A-list team of writers and producers like Toby Gad (Fergie, Beyonce), E-man (Backstreet Boys, Whitney Houston), Priscilla Renea (Cheryl Cole) Tim James and Antonina Armato, Greg Kurstin (Ke$ha, Mike Posner).
The album ends with a bilingual Spanish track Dices, very balladic and beautifully produced. Overall the album is a mixture of good and average tracks that youngsters could tune into.
Rating: ****
Reviewed by Verus Ferreira