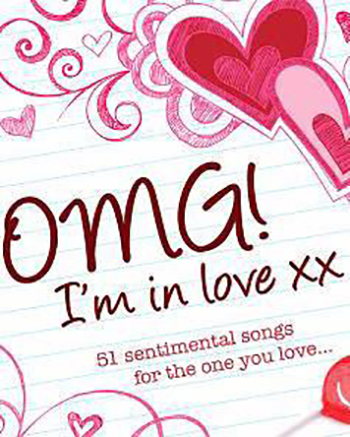 OMG! I'm In Love – (3 CDs) - Sony Music – Rs. 399/-
Cannot stop gushing about your favorite love songs, OMG is definitely one of the best collections if you go back in time to around 6 years ago. As the title rightly says, 51 sentimental songs for the one you love…..You can literally play this collection in any way you want and chances are you will find over a dozen masterpieces from the tracks here. There's the 60s, the 70s, the 80s, the 90s and a wee bit of the new millennium, so take your pick and program your player accordingly.

Our pick of the lot that we love include on the CD 1 playlist that has old favorite from boys Savage Garden's Truly Madly Deeply, Train with Drops of Jupiter, to balladeers Air Supply with All Out Of Love, a boy band that never grows old Backstreet Boys with Quit Playing Games (With My Heart), heartbreaking story with Natalie Imbruglia in Torn, while Toni Braxton brings her soulful voice on Un Break My Heart. The high pitch vocals of Alicia Keys with Fallin' are notably sharp and hit the right place……your heart. Other artists that also make a cut here include Christina Aguiliera, Justin Timberlake, Kelly Clarkson and Milli Vanilli among others.

CD 2 begins with an instrumental by smooth as silk saxophonist Kenny G with his spine chilling You're Beautiful, to the smooth voice of Sade with By Your Side. We cannot forget John Mayer who has given us some top of the line hit songs down the years, and he's here with his extremely lyrically satisfying Your Body is a Wonderland. Darryl Hall and John Oates bring back the magic of the 80s with You've Lost that Loving Feeling (remastered version 2003); to pop goddess Whitney Houston's anthemic Saving all my Love for you. Another piece we strongly recommend would be Cheap Tricks's The Flame. But don't miss out on a bit of country if you feel like it, for there's John Denver's golden super hit Annie's Song. There's also Gareth Gates with a cover of The Righteous Brothers Unchained Melody, to other artists also here like Outlandish, The Tony Rich Project and Ten Sharp.

On our last disc 3, we go back to the 60s with Andy Williams Where do I Begin (Theme from Love Story') who opens the 17 track playlist with this old favorite that is still played at many pre dawn parties. Another hit maker of the 70s Shakin' Stevens writes the words for you, when you have none to say, with the very meaningful Because I Love You. INXS, a band who has been around for over 30 years and who also lost their lead singer and founder Michael Hutchence, bring their glow here with their new song released back then with Afterglow. Boy band Westlife comes away with My Love, while the nasal toned Willie Nelson picks on an Elvis classic Always on my Mind, with another oldie Neil Sedaka signing the disc with Oh Carol. Don't miss out Gladys Knight and the Pips with Hero (Wind Beneath My Wings) true classic material in an age of EDM.

A collection you just cannot turn away from, music to remind you of your loved ones, your first love and your heartbreak. Though no lyrics are with the pack, you really don't have to say the words.
Rating: ****
- Reviewed By Verus Ferreira