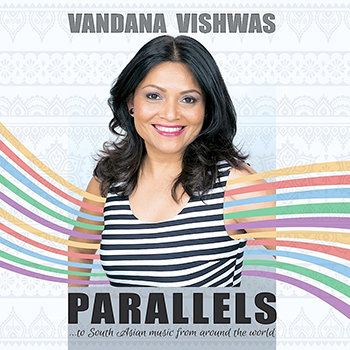 Parallels – Vandana Vishwas – (Import)
Indo-Canadian musician Vandana Vishwas, who recently won the 2016 Toronto Independent Music Awards in 'Best World' category, is truly an out of the box composer who is not afraid of experimenting fusing Indian music with other genres. She is one of the few original south Asian singers who is revered not only here, her home country, but also in Canada. Vandana is also the recipient of the Indo-Canadian Arts & Culture Initiative's Woman Hero award and recently she has added another feather to her cap by winning a Silver medal at the Global Music Awards 2016 for her flamenco based song Mai Beqaid (I am Unprisoned), in World Music and Female Vocalist categories from her third album 'Parallel'.
The once Lucknow native released her new album, 'Parallels' which has a two-fold meaning. Consisting of 10 songs, she has actually composed just five songs and presented each of them in two distinct genres. So, there are a total of ten songs making five 'Parallels'. Secondly, within each song itself, the Indian music (melody) runs parallel to the genre.
The unique aspect about 'Parallels' is that Sufi songs by Bulle Shah have been treated in genres such as Flamenco, Country and Ballad, which has never been done before. She has also collaborated with genres such as Rock, New Age and African music for Ghazals, Thumri and Geet, which one normally doesn't get to experience.
Two of Bulle Shah's poems Mai Beqaid in Flamenco music (collaborated with Canadian Flamenco guitar maestro Johannes Linstead) and Country music (collaborated with Canadian Dobro master Richard Henderson and Banjo wiz Tim Allan) and Hum Gum Huye in Ballad (collaborated with Canadian drummer Mark Kelso) and unplugged version (collaborated with Vishwas Thoke). She has also used one ghazal written by Jigar Muradabadi sahib, composed by her childhood mentor Dilip Kumar Gandhe in traditional setting but collaborated with Chinese Erhu specialist Amely Zhou and the other version which she labels as 'Rock-E-Zal' has been collaborated with Electric Guitarist Adam Langley, drummer Mark Kelso and bassist Jarrod Ross. Vandana has also debuted as a lyricist for the first time with two songs Dhula Dhula with Njacko Backo on Kalimba and Constancia on vocals in the African Beats version, and Njacko Backo's African Harp with Anil Roopchund's Tabla in the Afro-Indian version and Piya Na Mose Bole where she has collaborated with the Grammy winning trio of Ricky Kej, Varsha Kej and Vanil Veigas in the New Age version, and with Sunil Avachat's flute and Anil Roopchund's Tabla in the Thumri version.
Her idea to do this kind of a set on her album came when she listened to a non-Indian musical style; she always wondered about the differences in Indian music and if there was a way to collaborate with this genre in such a way that it maintains its integrity while allowing Indian music to maintain its own authenticity. Thus, she composed five songs and treated them in two diverse genres each, resulting in ten 'parallel' compositions that present the collaborated genres in their authentic forms. Hence the title 'Parallels'.
A good album to check out compared to all we hear today.
Rating: ****
Reviewed By Verus Ferreira