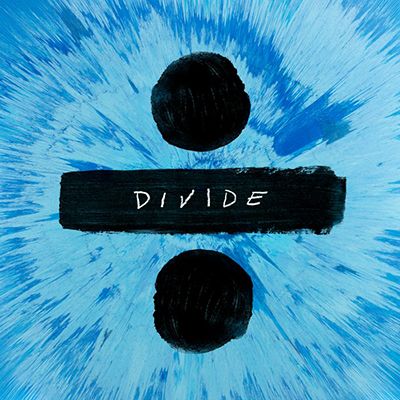 Divide – Ed Sheeran –Asylum Records (Import)
Ed Sheeran's new album released sometime in March this year which is known by the symbol "÷" (pronounced as otherwise "Divide"), is his third album. Known for his unique mathematical album names (the others were his debut + (2011) and X which is Multiply in 2014), he once again brings an album with a similar title or symbol sign. The return of the 26-year-old British singer/songwriter is welcome especially after such a three year long break. He comes back batteries-fully-charged to assault the pop charts with some flushy and mushy pop songs.
While a few slam Sheeran for reasons best known to them, the singer is a pretty jolly musician who knows how and when to bring on some imaginative songs that make you want to sing and dance on.
His lyrics on the 12 tracks move from the direct to the sentimental (the album's final track Supermarket Flowers, which Sheeran wrote in memory of his grandmother, paints a vivid portrait of bereavement with all the mundane details, to downright creepy stuff like "My bed sheets smell like you" in Shape of you.
Eraser that opens the album is pure '90s pop, with syncopated percussion, drum machine flourishes, and Sheeran's neat vocals on the chorus. He sings, "I used to think that nothing could be better than touring the world with my songs/I chased the picture-perfect life, I think they painted it wrong." The stomping Castle on the Hill rolls over to Dive with its blues tinge tagging along, while Shape of You that has tons of romance and sleaze brimming all over it. On Dive, Sheeran's voice hits well as he takes on the chorus "Don't call me baby unless you mean it/Don't tell you me you need me if you don't believe it". Other highlights include the slow pitched ballads Perfect and Galway Girl, the latter that has a host of Irish instruments merging with each other which is a must listen.
This is an album which features rapping and singing; club music and orchestras; ballads and a bit of Irish folk; It's an impressive record for sure, with a good mix of sassy lyrics, good compositions and a vocal style that we have come to love.
Includes Lyrics to all songs.
CD Courtesy: Sony DADC
Rating: ****
Reviewed By Verus Ferreira