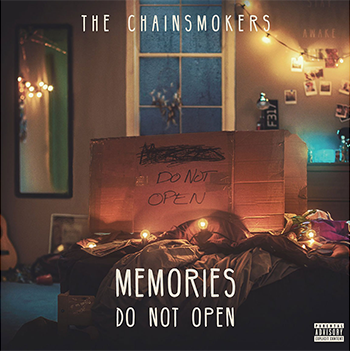 Memories do not Open – The Chainsmokers – (Sony DADC) - Rs. 499/-
Their catchy pop styled songs with that EDM sound behind all of it is what makes the Chainsmokers so popular all over the world. In 2014, when the duo that consists of vocalist Andrew Taggart and Alex Pall made themselves known to the world with the hash tagged first track #Selfie, the world new there was something new to look for. In the music video in which two nameless women babble blankly over a preset house beat about the newfound social pressures of a hyper connected world, teenyboppers soon had more to look forward when Roses came next and then the hits kept rolling.
Fast forward to today, and the pop charts are choked with the duo on repeat mode for their songs. "Memories…Do Not Open" is the first album by The Chainsmokers and consists of 12 pieces of work that the duo have done since they came on the scene sometime in 2014. The touching The One, and the rollicking, Break Up Every Night, is neat, while he croons "I've been drunk three times this week," on Bloodstream. On the album they take the help of a host of female vocalist to powerhouse their songs. Play on songs like Don't Say (featuring Emily Warren), Something just like this (featuring Coldplay), Paris "We were staying in Paris/To get away from your parents," are lyrics that are on the lips of most teenagers who are into the band. Honest, Wake up alone (featuring French Voice finalist Louane, jhene Aiko) are average pieces while the album closer and a collaboration with bro-country kings Florida Georgia Line, Last Day Alive is a must hear. It's Taggart's voice that dominates the album, singing on and on with a few artists.
If you look at the credits on the inlay, you'll notice Taggart's name listed as the primary songwriter, while Pall, does not pick up any song writing credits. Trying to play front man, Taggart steals the show on the album, while Pall does a great job on the mix, obviously with a little help from his friends who come on the album.
Includes Lyrics to all songs.
Rating: ****
Reviewed By Verus Ferreira