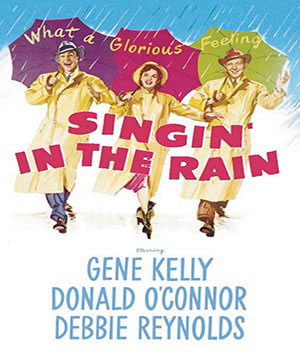 Singin in the Rain – Rs. 499/- (Reliance Entertainment) Rs. 599/-
'Singin' in the Rain' is considered by many people to be among the best Hollywood musicals of all time. And they are many reasons for it. It packs some of movie history's funniest scenes, the happiest singin' and dancin' and splashin' about in the rain and most of all a neat story that changed cinema some 50 years ago.
The plot is set in 1927. Friends Don Lockwood (Gene Kelly) and Cosmo Brown (Donald O'Connor) come to Hollywood hoping to make it big. Don immediately gets a break when he successfully replaces a stuntman. The management at Monumental Pictures gives him a break. He soon rises to stardom co-starring in a series of silent films with Lina Lamont (Jean Hagen). Now he is shooting 'The Dueling Cavalier' with Lina. They are paired so often in movies that fans think they are romantically involved, which Lina takes seriously. Don's real love lies in Lina's professional rival, the young showgirl and aspiring actress Kathy Selden (Debbie Reynolds) who he met accidentally and who is just the opposite of Lina. Around the same time Warner Brothers the first major studio features sound technology in their movie 'The Jazz Singer' which is a rousing success.
Producer Ron (Millard Mitchell) has to keep up with the competition. He stops production on his film until his studio can upgrade to sound technology. The movie undergoes a change and sound is added. However audiences at a preview criticize the film. That's not all, they have to now deal with Lina's nasal voice. Don's old pal Cosmo now an assistant at the studio decides to dub Kathy's voice and make the talkies into a musical titled 'The Dancing Cavalier'. Lina has other ideas. She does not want to share the credits with Kathy. The hilarious finale leaves you in splits.
Rating: ****
Reviewed By Verus Ferreira