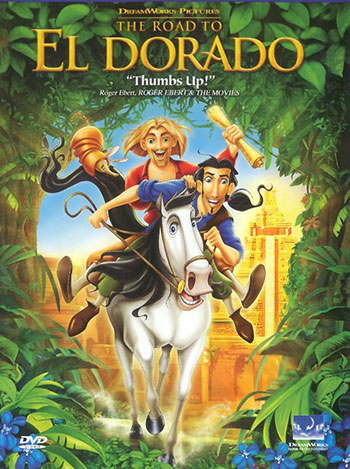 The Road to El Dorado – (Reliance Home Video) Rs. 399/-
Cast: Voices of Kevin Kline, Kenneth Branagh, Armand Assante, Edward James Olmos, Rosie Perez.
Directed By: Eric 'Bibo' Bergeron and Don Paul
DreamWorks mega project 'The Road to El Dorado,' took about four and a half years to complete. Not only does the movie have a good story about the trials of friendship, greed and loyalty, the amazing soundtrack and musical score are top notch, as it combines the legendary talents of Elton John, Hans Zimmer (Gladiator, Mission: Impossible 2), and Tim Rice (award-winning lyricist) coming together for the first time since Disney's 'The Lion King'.
The plot is set in Spain, circa 1519 and revolves around two con artists, Tulio (Kevin Kline) and Miguel (Kenneth Branagh) who is betting on the streets of Spain. A bet and a dice win, gets them a sacred map charting the way to El Dorado, the lost City of Gold. Rejoicing at getting the map, they set out to seek their fortune. Circumstances set them on a ship as stowaways on the ship of evil Spanish leader Cortez, bound for Cuba, who orders them punished. By sheer good luck the duo are thrown into the sea along with Cortez's war - horse (Altivo). They ultimately find themselves on an island in South America, replete with exotic animals, hidden waterfalls, and traces of an Indian civilization. Moving through shrubs and waterfalls, they stumble upon the gate to El Dorado, and Chel (Rosie Perez) a female con artist who is running away from a mob of Mayan tribals. The tribal's are surprised to see the duo and assume Tulio and Miguel to be gods. The duo are led through the streets into the heart of the city and treated lavishly. There they once again meet the Chel, who cleverly learns of their plot to take away gold. Of Tulio and Miguel, Tulio is the quick-thinking one that comes up with plans and loves fortunes of gold, while Miguel is down-to-earth, loves making music with his guitar, playing with the locals and kind hearted.
The trio becomes friends, but they all have to fight off obstacles that come their way. There's the high priest Tzekel-Kan (Armand Assante) who is locked in a power struggle with the benevolent chief (Edward James Olmos). Chel helps Tulio and Miguel get out of tight spots and with their eyes on the gold; they must decide both to stay and enjoy life in the magical city of El Dorado or make off with the gold and return to Spain.
Don't miss the over an hour of Bonus Material.
Rating: ****
Reviewed By Verus Ferreira