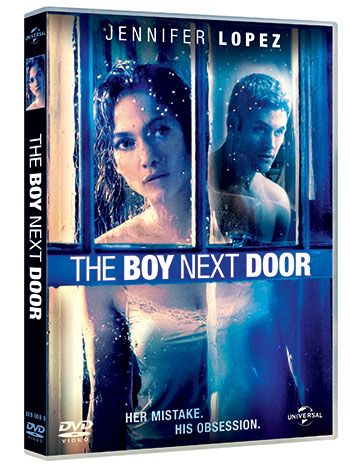 The Boy Next Door – (Reliance Home Video) - Rs. 599/-
Cast: Jennifer Lopez, Ryan Guzman, Ian Nelson, John Corbett, Kristin Chenoweth,
Directed by Rob Cohen
Jennifer Lopez returns to the big screen in a thriller, reminiscent of similar erotic films made in the early 90s like 'The Crush' and 'Basic Instinct'. The film manages enough suspense to make it entertaining to keep the audience on the edge of their seat.
Jennifer Lopez plays Claire Peterson, an insanely attractive high school teacher who's recently separated from her cheating husband Garrett (John Corbett). She's trying to leave the past behind and move on, but Garrett pleads for another chance at the marriage. Claire won't have anything to do with it and a day after their teenage son Kevin (Ian Nelson) celebrates his birthday, father and son drive off for an overnight camping trip, leaving Claire alone.
Enter Noah Sandborn (Ryan Guzman), the attractive 20-year-old who lives next door and takes care of his ailing Uncle. Kevin and Noah are known to each other at school and spend a lot of time together. Noah seems like the perfect neighbour, ready to help out around the house and kind to Kevin who struggles to fit in at school. But he's also attractive, which is something that doesn't go unnoticed by Claire. He also catches Claire's eye and it isn't long before they are watching each other through bedroom windows.
On a rainy night when her family is camping out, Claire surrenders to Noah's advances, but regrets this decision the next morning. But passion soon turns to terror, as Noah develops an unhealthy obsession with her that has deadly repercussions. Noah turns into a psychopath in every sense of the word. He signs up for her class, starts stalking her, creating havoc even in the school. Claire regrets her one mistake, but is imprisoned by Noah's threats. Noah feels cheated, and plans to finish off the family in a exciting climax.
Lopez still looks hotter than ever, is eye candy in the lovemaking scenes with Noah, though we get to see just a fraction of it in the Indian version.
Rating: ****
Reviewed by Verus Ferreira