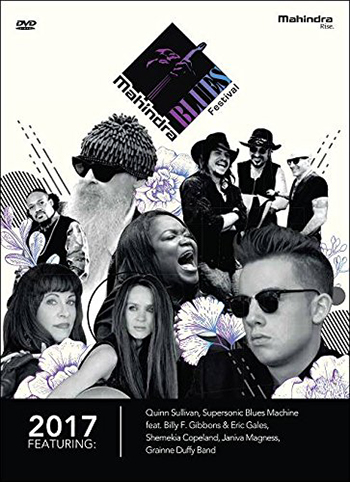 The Mahindra Blues Festival – 2017 – Rs. 499/- (Sony Music/Sony DADC)
The seventh edition of Asia's largest blues festival saw an amazing line-up like always on the two days of 11th and 12th of February 2017.
The DVD showcased all the great artists who performed there. You had three-time Grammy nominee, Shemekia Copeland, 'blues prodigy' Quinn Sullivan, Americana soul singer Janiva Magness, vocal-powerhouse Grainne Duffy, the Supersonic Blues Machine featuring Billy Gibbons of ZZ Top fame, and blues-rock guitarist Eric Gales.
Like previous years the DVD is set in the usual pattern of day one and day two with two songs each from each artist which comes to 14 songs. The set opens with Irish singer-songwriter Grainne Duffy blues set fuelled with soul rock and Celtic influences. Her vocals charged so well, she engages the audience with I'd rather go Blind and Love me Like a Man. Award winning singer-songwriter, Janiva Magness's unique style of music blends acoustic and electric instruments to create a perfect setting with I won't Cry and Love wins Again.
Eighteen year old child prodigy; Quinn Sullivan was back again, after his debut appearance in 2016, though his mentor Buddy Guy wasn't around to see the magic he creates. On Lifting off and Midnight Highway, Sullivan proved what a great guitarist he is with some great solos and matching vocals that the audience loved. He was quite a crowd puller even though the audience had seen him before.
With a voice that exudes beauty and loud at the first note, three-time Grammy nominee, Shemekia Copeland's music struck a chord with all around. No stranger to the Indian blues scene, Shemekia was one of the first artists at the debut edition of the Mahindra Blues Festival in 2011. The heart-warming and lyrically appealing Dirty Water and Somebody Else's Jesus, Shemekia filled the studio at Mehboob Studios with a resounding rendition of both tracks.
Closing the two-day weekend was Supersonic Blues Machine with I Ain't falling and Roadhouse Blues. They were joined on stage by special guests' blues rock guitarist Eric Gales and ZZ Tops fame Billy Gibbons who took on Nightmares and Dreams and Running Whiskey. The night culminated in an All Star Jam coming on stage to Going Down and Dust my Broom. All musicians who performed the previous day joined in, including Warren Mendonsa of the Blackstratblues.
The DVD clocks a little more than an hour, you can either watch the songs on screen or listen to them as an audio set. Sadly there are absolutely no bonus features on this DVD. Compared to international acts that bring out DVDs of their live concerts, the Mahindra Blues festival DVD has remained the same since the time the company decided to bring out the festival on DVD format, with the 2016 edition available on blu ray. The festival which today is regarded as one of the best blues festival in the world should give the viewer something he has not seen like artist's interviews, backstage snippets, audience interactions, and other such titbits. But it seems these don't interest the production house. What about The Mahindra Blues Band Hunt winners; BLU who were adjudged winners 2017, they are nowhere on the DVD. They enthralled the audience on both days of the festival with their scintillating beats at the Garden area. The Vinyl Record store and the fab food and bar counter are sorely missed too.
If you talk of memories, you just have a random selection of tracks here, all for your viewing or listening pleasure.
While the production values are great, the music is a let down by less than stellar picture/audio values. The last track audio is totally cut down compared to the other songs. Come on Mr Mahindra, if you can get such top notch performers every year, please also get a top notch production crew to make your DVD.
Rating: ***
Reviewed by Verus Ferreira