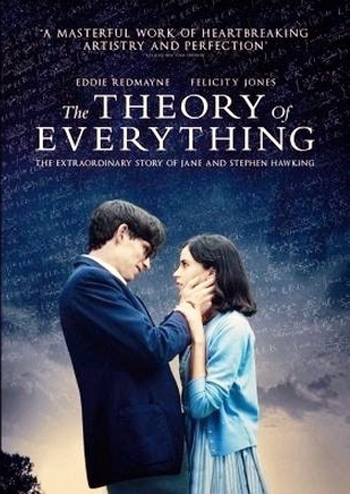 The Theory of Everything - (Reliance Home Video) - Rs. 499/-
Cast: Eddie Redmayne, Felicity Jones, Charlie Cox
Directed By: James Marsh
What better way to pay tribute to the world renowned physicist Stephen Hawking who died at the age of 76 on 14th March 2018, than to review the film based on his life.
This Academy award winning film is a docudrama based on the true life story of the great physicist Stephen Hawking and his wife Jane Hawking. Adapted from the memoir Traveling to Infinity: My Life with Stephen Hawking by Jane Wilde Hawking, the film tells the story of the brilliant and young Hawking (Eddie Redmayne – Les Miserables) as a physically-active student studying at Cambridge University and pursuing his scientific dreams, when one day he receives a horrifying diagnosis (at age 21) of having motor neuron disease. The doctors gave him just two years to live. But Hawking defied all odds and is still working and theorizing at age 73. The disease not only affected his mind's abilities, but also left him in a state of paralysis where he lost the ability to walk, speak, and carry out other functions he was previously able to do with ease. The film details his struggle to live with the disease.
The adaptation also pans Stephen's personal life with his childhood sweetheart Jane (Felicity Jones) and her insistence that they settle down despite the fact that she knew Stephen's disease that could mar their relationship. As this film is based upon her own memoir, a large part of is devoted to showing Jane's struggle to be able to care for her disabled husband and their 2 children. From finding him a simple wheelchair, to getting a motorized one, Jane tries her best to make life comfortable for her husband. But all this weighs her down. She finally brings in widowed pastor Jonathan (Charlie Cox) to help out. Soon her relationship with Stephen begins to crack. Stephen is unmindful of what is going on and instead concentrates on his scholarly ambitions which ultimately led to releasing his famous novel A Brief History of Time.
Redmayne embodies Hawking to the point where you actually believe you are watching Hawking himself. It's a heartbreaking love story and an engrossing autobiographical account of one of the world's best physicist alive today.
Rating: *****
Reviewed By Verus Ferreira