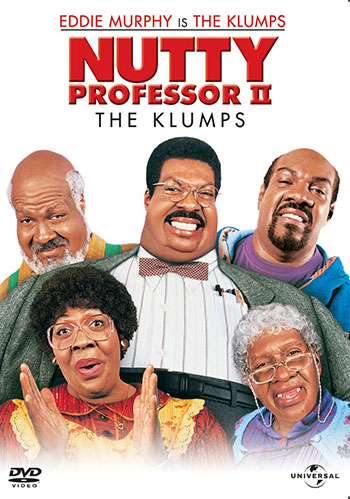 Nutty Professor II – The Klumps (Reliance Home Video) Rs. 299/-
Cast: Eddie Murphy, Janet Jackson, Larry Miller
Directed By: Peter Segal
Nutty Professor II: The Klumps is a sequel to the 1996 remake of the 1963 film. The film once again stars the very lovable Eddie Murphy who plays the brilliant scientist Sherman Klump. The 1963 film featured Jerry Lewis and is based on the parody of R.L. Stevenson's Dr. Jekyll and Mr. Hyde.
In this 2000 science fiction feature we have Sherman who is on the verge of creating an invention that could make him multimillionaire. He has created a youth serum that turns back the user's body clock. Selling this invention would gain him enough money to live a happy life and get married to the love of his life Denise Gains (Janet Jackson), a professor involved in DNA research. But just when Sherman and Denise can tie the knot, trouble erupts in his life.
Buddy Love, his other him from the first movie, tries to stay in his own form for eternity, and therefore he keeps appearing, that makes damage to Sherman. Sherman tries to destroy Buddy Love forever, but each time he fails. Due to an accident, Sherman swallows a chemical and starts to lose his knowledge and memory which can prove fatal. Sherman has to save himself and also the love of his life. With the help of his very impolite and rude family the Klumps, and Denise, he tries to return his memory to vanish Buddy Love forever.
Murphy plays eight roles in the film, wearing different, but equally elaborate makeup playing most of Sherman's family, namely Buddy Love / Granny Klump / Mama Anna Klump / Papa Cletus Klump / Young Papa Cletus Klump / Ernie Klump, Sr. / Lance Perkins and Sherman Klump. This is not just a stunt. It is some kind of brilliance.

A pretty funny movie to watch. Not one of the best comedies, but a good one for a few laughs.
Don't miss the excellent music score and about an hour of bonus features.
Rating: ****
By Verus Ferreira