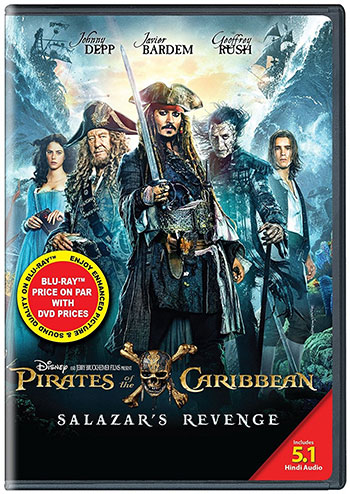 Pirates of the Caribbean – Salazar's Revenge – (Reliance Home Video) Rs. 699/-
Cast: Johnny Depp, Geoffrey Rush, Brenton Thwaites, Kaya Scodelario, Javier Bardem, Orlando Bloom, Keira Knightley.
Directed by: Joachim Rønning and Espen Sandberg
It's never too late to continue the series of Pirates of the Caribbean, even if that means that the latest offering, the fifth outing in the franchise, comes six years later. Our hero Johnny Depp who plays Captain Jack Sparrow is back with his slick humour and slurring that at times gets too much to handle.
Out tale focuses on Henry Turner (Brenton Thwaites), the son of cursed Will Turner (Orlando Bloom) and Elizabeth Swann (Keira Knightley), who goes in search of Poseidon's mythical trident which is said to break all the curses of the sea and free his father from the Flying Dutchman. Jack Sparrow also wants the trident, to protect him from Spanish naval captain and pirate hunter Salazar (Javier Bardem), who Jack cursed years before to sail the seas as a zombie. We see all this in a flashback as the film progresses on. The vengeful Captain Salazar is a cursed and decomposing sea captain whose true colours are revealed with morning sunlight. Through amazing special effects the pirate hunter's facials and those of his aides come out beautifully.
Henry and Jack pair up with the gorgeous scientist Carina Smyth (Kaya Scodelario) who is also seeking the trident to help with her search for a secret island she read about in a book that supposedly belonged to her father who left her on the street outside an orphanage. They all set sail on a boat of former enemy turned ally Captain Barbossa (Geoffrey Rush).
The best thing about Salazar's Revenge, aka Dead Men Tell No Tales, is that it looks simply amazing in 3D, that's if you watched it on its theatrical release. Sadly the DVD has no Bonus material, but its loud booms emanating from the speakers, daring stunts during an execution scene, cannonball fights at sea, and the beautifully designed ships, will surely satisfy hardcore fans of the series, who have probably dug deep enough into a dead man's chest to know on its making.
Rating: *****
Reviewed by Verus Ferreira