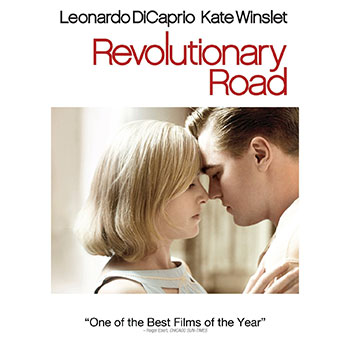 Revolutionary Road – (Reliance Home Video) - Rs. 599/-
Directed by: Sam Mendes
Cast: Leonardo Di Caprio, Kate Winslet
Leonardo Di Caprio and Kate Winslet reunite once again since their careers exploded with 'Titanic', for this romantic - drama based on a 1961 novel of the same name by Richard Yates. The romantic duo are playing the same characters, only thing this time they're already married. It is wonderful to watch Winslet being directed by her husband Mendes, putting off a wonderful performance, very memorable.
Frank (Leonardo Di Caprio) and April (Kate Winslet) meet at a party and fall in love instantly. Now move on to a couple of years and we have the plot set in the 1950s, where they are happily married with a house, two kids. But the problem is that they live their lives very routine. Frank, a marketer who works for Knoxx business machines, is profoundly miserable at his job as he diligently works in a cubicle, even though he is paid handsomely. He does not wish to leave as his father has also served the company for over 30 years. April, a struggling actress, is down in the dumps as her career has failed to take off.

They can't find their chosen paths in life, and decide to move to the Connecticut suburbs on Revolutionary Road hoping to bring a better life for themselves and kids. Yet for all that they have done the Wheelers find themselves becoming exactly what they didn't expect: still wondering what to do with their life.
April finally speaks with Frank with an idea of her pursuing a career as a secretary and settling in Paris.Her reasons being she would forget about her downslide acting career and can move on to another profession, while he can also figure out what he wants to do with his life. Frank refuses at first, but agrees noticing the dwindling relationship between him and April. Just then Frank is offered a promotion. Watch what happens.
No one can create a sound track as moving as Thomas Newman. This is surely one of his best. The entire sound track from Revolutionary Road is both captivating and haunting. I never thought I could become so obsessed with a musical theme, it not only fits the film well but also stirs up emotions.
Rating: ****
Reviewed by Verus Ferreira