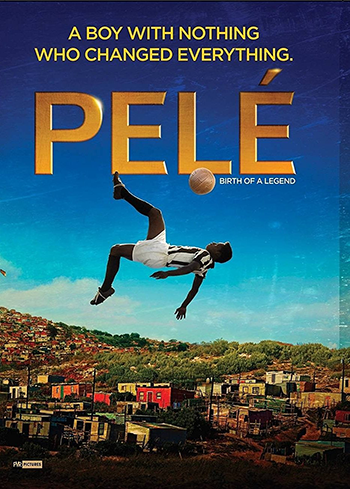 PELE – Birth of a Legend – (Reliance Home Video) - Rs. 599/-
Cast: Vincent D'Onofrio, Rodrigo Santoro, Mariana Nunes, Colm Meaney, Diego Boneta, Seu Jorge, Kevin de Paula
Directed By: Jeffrey Zimbalist and Michael Zimbalist

Soccer lovers here's a treat for you. 'Pele' is an out and out biopic that tells the story of one of the world's greatest soccer players, Edson Arantes de Nascimento better known and loved as Pele.

The film follows a young lad Edson Arantes de Nascimento (Leonardo Lima Carvalho) raised in the slums of Brazil who emerged as an important sporting icon years later. His father Dondinho (Seu Jorge) teaches him the basics of the game, from learning to kick off mangoes from a tree in lieu of footballs. Edson kicks the ball around with fellow ragtag underdogs wearing smart homemade uniforms. The rich kids taunt him and nickname him Pelé, a moniker he comes to embrace.

Pelé's childhood is marred by a double heartbreak: a pal's death and Brazil's 1950 loss in the World Cup. Pele decides he has to take a step forward and win for his country. At the age of 16 he manages to get a place on Brazil's national team for the 1958 World Cup. Manager Vicente Feola (Vincent D'Onofrio) takes a grown up Pelé (now played by Kevin de Paula) for the team but gets upset when Pele tries to utilize his street soccer skills in the game. Feola finally gives in to the "primitive" ginga style and allows it to be used in the game and lets Pele and his teammates to be themselves.

Ironically, the story ends in 1958 when Pele was just 17years of age where he was part of the Brazilian soccer team and helped secure the 1958 FIFA World Cup thanks to his unorthodox skills and 'Ginga' style of football against Sweden.

Both actors, who play Pele, manage to give a fair look at the early life of the legend. For those who really want to see the real Pele, keep a lookout as he has a fun cameo in the film.
Our very own AR Rehman composes the music for this film; watch out for the song Ginga.

Rating: ****
Reviewed By Verus Ferreira