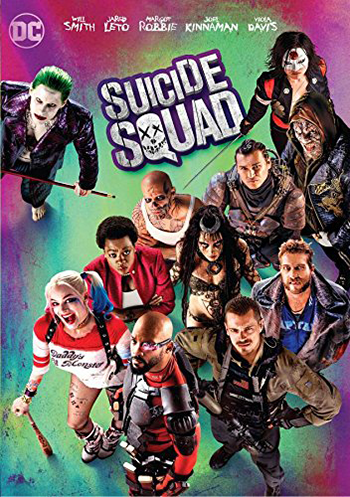 Suicide Squad – (Reliance Home Video) - Rs. 599/-
Cast: Margot Robbie, Will Smith, Jared Leto, Jai Courtney, Jay Hernandez, Adewale Akinnuoye-Agbaje, Viola Davis, Joel Kinnaman,
Written and Directed by: David Ayer
If you are not aware, the film recently won an Oscarfor Alessandro Bertolazzi, Giorgio Gregorini, and Christopher Nelson for Best Makeup and Hairstyling,against other contenders like 'Star Trek Beyond' and 'A Man Called Ove'. While the film does deserve the statute, its storyline is nothing extraordinary.
Following the 'Dawn of Justice' and the death of Superman, a top-secret government agency A.R.G.U.S., headed by Amanda Waller (Viola Davis), is looking to put together a team of dangerous criminals imprisoned at Belle Reve Prison to be used as disposable assets in high-risk missions that are not only dangerous and too sensitive for the U.S. military to handle,but also very difficult for the United States government to take responsibility.She selects a team of six members Killer Croc (Adewale Akinnuoye-Agbaje), Diablo (Jay Hernandez), Captain Boomerang (Jai Courtney), Deadshot / Floyd Lawton (Will Smith) and Harley Quinn (Margot Robbie)and The Joker (Jared Leto) for the mission. Each has a nano bomb is injected in their neck should anyone try to escape or rebel against the authorities. Amanda has carefully selected the team who have to work together to defeat an enigmatic entity. They are closely monitored and their conversations also tracked. To oversee the team, Waller relies on field commander Rick Flag (Joel Kinnaman) who leads the Suicide Squad.
Halfway into the job they realize that they are not working as a team, as each has their own agenda. The Suicide Squad must choose between their individual self-interests or the mission, a dangerous one that no one else on the planet can pull off. When they inevitably fail, will the Suicide Squad resolve to die trying, or decide it's every man for himself?
A thorough action flick with great sound effects, there's a great music score from Twenty-One Pilots with Heathens, Purple Lamborghini (Skrillex and Rick Ross) and a cover of Queen's most loved Bohemian Rhapsody (Panic! At the Disco), all going to make this a good audio companion too.
Rating: ****
Reviewed By Verus Ferreira