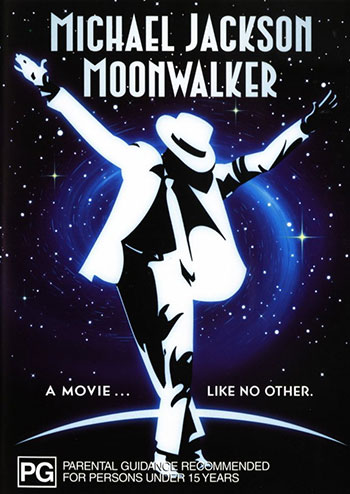 Moonwalker – Michael Jackson (BIG Home Video) Rs. 599/-
They say, it's only after a person passes away that he is remembered more lovingly. So is the case with the King of Pop – Michael Jackson. With his death came a surge in sales for his music and concert DVDs (very few of which exist).
It was the mid eighties when Michael was at his peak in his career, and when albums like 'Bad' spawned five US number ones and the movie 'Moonwalker' was also released.
The DVD (directed by Jerry Kramer Colin Chilvers, based on a story by Jackson) features a classic MJ video montage a neat little mega mix going from the Jackson Five days through the 'Bad' album. Then comes 'Smooth Criminal' a 45 minute film about Michael saving the world from drug obsessed crime baron Mr. Big (played by Joe Pesci). You also have the son of legend John Lennon Sean Lennon. The plot revolves as Michael stumbles onto the evil plans of Mr. Big. Michael is chased by Big's troopers, only to transform into a high performance car and speed off towards the 1930's Chicago club for the famous Smooth Criminal music video. Michael makes his way to the club, finally taking on the whole of Big's army, before becoming a robot and then a spaceship. There are interesting pieces of dancing, sci-fi effects and blazing machine guns. In between there are numerous Jackson music videos with little or no linkage to the story line. But it's the video that's exciting.
The disc actually begins with his anthemic live performance of his number one single Man in the Mirror scanning images from the Pope, Mother Theresa and even Mahatma Gandhi. Michael is rarely seen in the video.
The DVD then rolls down into documentary that takes you through the early days of Michael's career, from his debut, through his Grammys and through the many highs that he enjoyed until his album release of 'Bad'.
It's a MJ medley that includes songs like I Want You back, ABC, The Love You Save, Who's Loving You, Ben, Blame It On The Boogie, Can You Feel It, Rock With You, We Are the World, The Way You Make Me Feel and Dirty Diana and lots more.
There's also a couple of eight to ten-year-old children dancing and miming to MJs most popular track Bad with Brandon Ames playing the Jackson part. It's a kiddie version and enjoyable
Speed Demon is cute and is a comical view of what Michael's life is like with his tremendous fame.
The movie features the music video for a bonus track featured on the 'Bad' album CD version, Leave Me Alone a song that Michael says was addressed to the media. Michael then takes the Beatles cover of Come Together to an all new high, a song which didn't appear on a MJ album until HIStory six years later.
'The Moon Is Walking' a song played by an African group called Ladysmith Black Mambaso, comes in as the closing credits, and is another plus on this DVD.
For the sci fi aficionados this is a treat from the Pied Piper of Pop, but to others it may seem irritable and certainly not very interesting. There are no special features here, (but there are many DVDs out there that have loads on Michael Jackson). Although quite enjoyable, there is no real structure or professionalism in the flick.
Rating: ***
Reviewed By Verus Ferreira