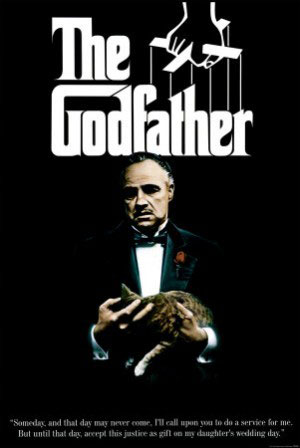 The Godfather – (Reliance BIG Home Video) Rs. 499/-
Directed By: Francis Ford Coppola
Cast: Marlon Brando, Al Pacino, Robert Duvall, James Caan
A rage once upon a time, 'The Godfather' the movie, satisfied the thirst booklovers had after reading Mario Puzo's epic novel of the same name. Francis Ford Coppola's adaptation of the novel is regarded as one of the best films ever made.
'The Godfather' is a portrait of the America's two most important institutions, namely family and capitalism.
The film pans on the life of the Corleone family in the 60s, who live in Sicily and later move to New York. The head of the family Vito Andolini (Marlon Brando) struggles to keep his family out of poverty. Director Coppola manages to showcase Vito's introduction to organized crime, the drug angle, the Mafia, his rise to power, the rise of Vito's son Michael (Al Pacino) as his successor and the sudden downfall due to Michael's misdeeds. In trying to save his family he almost destroys it bringing it to grief. Between all this is the family, caught in a melee of conceit, despair and in - fighting. The crime and violence is well documented in every few scenes showing crime in its crudest form, the burgeoning criminal empire and one man all out to protect and provide for his family. You cannot forget the famous dialogue "I'll make him an offer he can't refuse".
From many of the finest actors of cinema we have Brando Al Pacino, Robert Duvall give off amazing performances. Nearly every frame is flawless, with each actor concealing in a novel way their intentions, making you guess their next move precariously.
Available in three parts, each part is linked by chronology and theme. Thus, it would be advisable to also watch The Godfather Part II and Part III.
While this engrossing saga garnered ten Academy Award Nominations, it won three including Best Picture in 1972. A year later, Marlon Brando won the Best Actor Oscar for The Godfather, while Pacino, Caan, and Duvall all earned supporting actor nominations.
There is also the well timed soundtrack that leaves an impression that last longer than the 172 minutes of the movie. Set in the early 40s, there is something about the trumpet and the string tones by Rota that somehow take u out of the mean streets of New York and calmly thump you into the lanes of Italy. When the movie is about the mafia, the music constantly keeps you on your toes. There's a lot of accordion driven swing music with a blend of jazz with a somber theme.
Rating: *****
Reviewed By Verus Ferreira