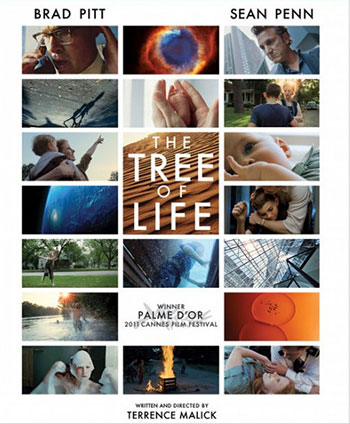 The Tree of Life – (Reliance Home Video) - Rs. 599/-
Cast: Brad Pitt, Sean Penn, Jessica Chastian, Hunter McCracken
Written and Directed By: Terrence Malick
This Oscar nominated Best Picture, Best Director, Best Cinematography flick is about the beginnings of the cosmos, gurgling volcanoes, dinosaurs, the planet, our surroundings and how we look at. Though the movie lost out, the cinematography through visuals is unbelievably gorgeous and colorful, exuding peace and a meditative mood. Cup that with its good use of sound at the right places. A pure drama flick, the early chapters might seem elusive to the viewer, but it's the latter part of the film that is engrossing. At 139 minutes, it's a good take on life and what it offers us.
O'Brien (Brad Pitt) is a strict authorative father raising a family in Texas in the 1950s. Jack (Hunter McCracken) and his two brothers cope with their dictatorial but loving father, a bitter man, who demands that his sons address him as "Sir". Pitt excels as he tries to instil good qualities to his boys, alongwith his wife Mrs. Brien (Jessica Chastian), who literaly listens to every word her husband says and is almost voiceless in the entire film. She is a striking contast to her husband.
The boys have a field day when Mr. O'Brien departs the scene on a business trip. They celebrate, running around the house, banging the door and playing pranks on their mother too. But things reverse when the brothers are embroiled in destructive acts that depict criminal elements. Back home, Mr. O'Brien's love for his kids is seen when he brings each of them a gift. In a later stage Jack is played an adult Sean Penn in a relay of past and present, appearing in the last half hour of the film to patch up the confused plotline a bit. The movie follows the family through struggles, triumphs, life and death.
The film's loss at the Oscar's didn't dent its success at the Palme D'Or 2011 Cannes Film Festival where it won Best Picture.
Rating: ****
Reviewed By Verus Ferreira