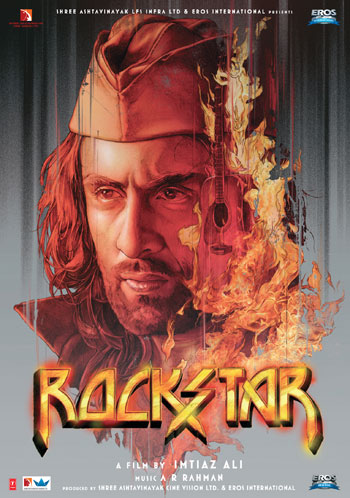 Rockstar – (Eros Entertainment) Rs. 299/-
Directed Imtiaz Ali
Cast: Ranbir Kapoor, Nargis Fakhri, Shammi Kapoor, Aditi Rao Hydari, Shikha Jain.
As director, Imtiaz Ali has brought the best out of Ranbir Kapoor in a role that truly suits him. For all those who are die-hard romance and drama lovers, this movie is sheer bliss. Not only the plot, but also the songs make you fall for the movie even more. Music maestro A.R. Rahman brings in a captivating score. It's not usual Rehman songs, it's vastly different. 'Sadda Haq' the most memorable of all, will be loved instantly, while the others will take time to grow on you.
Janardan Jakhar aka JJ or Jordan (Ranbir Kapoor) has big dreams of being a rock star like his idol Jim Morrison. Born and brought up in a middle class locality of Delhi, he tries to live out his dream. At college he is a nobody, while at home he is a good for nothing person, who lazes around doing almost nothing. He cannot meet his dream in this state and seeks the services of his friend who advises him that the secret behind all great success, is that you have to fall in love and when heartbroken only then will your music get the right words, become better, deeper and you will be a star.
Jordan strives to do just that and befriends Heer (Nargis Fakhri) the undisputed diva of the college campus, very beautiful, talented, arrogant, rich and unavailable. She has broken many hearts along the way. Jordan hopes that by falling in love with her, she will break his heart too and he will get what he wanted. Within two months the relationship sours and Jordan is left heartbroken.
He takes up singing once again and becomes a rockstar. His lyrics and songs make all who hear him go crazy. He eventually meets Heer again. But Heer has moved on and Jordan is emotionally in love with Heer, unlike before.
Jordan finds it impossible to fall out of love when asked to do so. He ultimately gets all that his heart has ever desired, but in the process loses his heart forever.
Rating: ****
Reviewed By Verus Ferreira